EVERYTHING BUT A WEDDING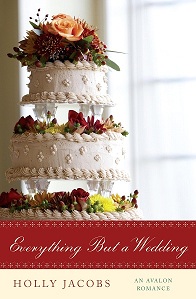 by Holly Jacobs
ISBN 978-0803499249
Avalon Books, 12/08
REPRINTED in a hardback/large print version by Thorndike, 8/09
REPRINTED by Montlake Romance as eBook/paperback 11/20/12

Audiobook release 5/2017
RT Reviewers' Choice Award Nominee!
Every Hungarian Grandma knows that words have power. But Nana Salo never meant the words she said in anger to become a family curse, but that's just what happened. Two grandchildren have found love, but not managed to break the curse. Nana's last hope is Dori, who promises to help her break the curse when she marries...if she marries. Okay, so Dori doesn't plan to ever marry. So there's no worry about not being able to keep her promise.
Enter Carter William Hastings. He's pretending to be an interior designer in order to help his cousin, CeCe. Who knew what started out as a ruse, would end with him developing feelings for the contractor, Dori Salo. But Dori knows him as Carter Hastings–what chance does an ordinary guy like Bill Hastings have with her?
Bill and Dori might be able to figure out their relationship is more than just business and maybe could be love...but will they be able to break Nana's curse?
***
Each of the books stands on its own, but if you want to read the whole series, the order is:
Everything But a Groom
Everything But a Bride
Everything But a Wedding
Everything But a Christmas Eve
Everything But a Mother
Everything But a Dog
Amazon, Audible, BN and iTunes
"All readers will enjoy the last endearing tale in Jacobs' trilogy."
~Maria Hatton, Booklist
"...sweet." ~Publisher's Weekly

"The final installment in Jacobs' Everything But trilogy is a heartwarming, funny, fast-paced romance with a captivating hero and a feisty heroine. The delightful supporting characters add another layer to this wonderful story of family and love." ~Romantic Times, 4 1/2 stars!
"It's another treat from Jacobs." Lesa Holstine

"Readers will enjoy Holly Jacobs' fine lighthearted tale that contains everything to warm the heart over the holidays." ~Harriet Klausner

"EVERYTHING BUT A WEDDING is a light hearted romance filled with humor and family devotion. This is one sweet read that must not be missed, especially if read together with EVERYTHING BUT A BRIDE and EVERYTHING BUT A GROOM. Holly Jacob is synonymous with humorous romance and this series is a jewel in her crown." ~CataRomance
"Welcome to the Salo family, the family that will drive you crazy with all the love and attention that you can handle. Everything but the Wedding is the third installment of the Everything series. This time we get to know more about Dori, the baby of the family. I love this zany family; they are always enjoying food, family, fun and love. " ~Writers Unlimited
"Holly Jacobs has written another rollicking good romantic comedy with Everything but a Wedding. Once more she takes unlikely circumstances and finds the funny in the middle of it all. That is one of the best aspects of a Holly Jacobs novel. Her humorous take on family relationships always makes for a heartwarming story. How can anyone not adore Nana Vancy and her desperation to break the curse she unwittingly placed on her family?" ~© Kelley A. Hartsell, December 2008. All rights reserved.
Everything But a Wedding
Copyrighted 2008
Holly Jacobs
The Salo Family Wedding Curse

Nana Vancy, the matriarch of the Salo family, was depressed.

The whole family knew it.

Dori Salo knew it better than the rest.

Nana had been depressed ever since Noah and Callie married. It wasn't that Nana didn't love Callie...Dori knew she did. It was that Nana Vancy had hoped they'd be the ones to break the Salo Family Wedding Curse.

The curse her grandmother felt she'd brought on the family
The curse her grandmother so desperately wanted to help break.

Dori Salo felt her grandmother's curse more keenly than the rest of the family because she knew her grandmother was counting on her to break the imaginary Salo Family Wedding Curse.

To be fair, although the entire family thought the curse was just in Nana's head, their grandmother believed in it heart and soul. And Dori loved her enough to do anything, promise anything, if she'd only cheer up.

"Nana, you have to come out," Dori called through her grandmother's closed bedroom door.

"No, I think I'll just sit in here for a while longer."

"Nana--" Dori didn't know what else to say.

Her grandfather had called first thing this morning and demanded she come over. And when Papa Bela demanded, the family responded.

So here she was trying to cajole the most stubborn member of the family out of not just her room, but her funk. And she knew she wasn't going to accomplish that standing outside her grandmother's door, so she opened it and went in.
Nana Vancy was only four feet, eleven and a half inches, but no one in the family seemed to notice her slight frame because her giant spirit had always eclipsed any lack in height. Now, her spirit broken, Dori thought her grandmother seemed small, engulfed by the rocking chair. Lost in it.
Just lost period.

"Nana..." she started, unsure what else to say.

"It's all my fault," Nana said softly. "Me and my stupid pride brought this curse on the family. I realized it when all my children's weddings were disasters, but with my grandchildren, it's gotten worse. Both your sister and your brother didn't just have a disastrous wedding, they got left at the altar. And of course there was you and Leo."

"Nana, both Vancy and Noah were about to marry the wrong person," Dori patiently pointed out. "Getting left at the altar was the best thing for both of them. Vancy and Matt have the twins with them, and they're expecting a baby, even. And Noah and Callie are deliriously happy. As for Leo...it never got as far as talking about weddings. It was a school thing."

"For him, maybe, but not for you, lanyunoka." Her grandmother shook her head. "For you it was a heartbreak, and even though you hadn't talked about weddings, I know you'd thought about it. Just a thought is enough of a curse now."

"Nana," she was going to say, you're being ridiculous, but she knew better, so she simply said, "I'm fine. Losing Leo was for the best."

"How is having your heart broken for the best? Knowing that it was my fault, my curse, my words..." Her grandmother shook her head and her grey hair swayed back and forth.

"It's a burden I'll have to live with."

"Nana, they were only words. Not a curse. Just words said in pain."

"And anger," her grandmother said with honesty. "I thought my Bela had left me at the altar, and though I was crushed, I was also furious. I was Vancy Bashalde, the pride of Erdely, Hungary. My father was mayor. I deserved the most beautiful, elaborate wedding the town had ever seen. I was so angry that Bela had shamed me. Hurt and angry, I said the words, 'I hope Bela never gets a big, beautiful wedding like this. I hope that no one in his family does.'"

"But Papa hadn't left you. He'd had an accident and when he made it home, you both married--"

"And no one in our family has ever managed that big, beautiful wedding." Nana Vancy sighed. "Even before your grandfather came back, I tried to soften the curse by adding that it wasn't those future marriages I was trying to curse, just the weddings. And when someone realized the marriage was more important than the wedding, the curse would be broken. Both Vancy and Noah let me down."

"Nana, I want the kind of love you and Papa have. The kind Mom and Dad, Vancy and Matt, and Noah and Callie have. I want a man who likes the same things as me. Someone who loves to fish, and watch sunsets on the peninsula. Someone who will never fight with me. Who won't mind I don't like to dress up and be a girly girl Someone who wants me the way I am because he loves me that way. When I find him," she didn't say if I find him out loud, but she thought it, "I won't care about how we get married, as long as I get to spend the rest of my life with him."

In Dori's mind, finding that man, that perfect man, was probably not in the cards. It was a matter of statistics. Everyone in her family had found their perfect mate, so what were the odds she would do the same?

Slim to nil.

She'd learned that perfect men tended to want perfect women, and in their minds she was anything but perfect. So Dori had long since decided that she was going to be the family's resident spinster. She's spoil her nieces and nephews horribly and live a solitary life.

She didn't need a man, and she'd given up looking.

Oh, she occasionally dated, but she never dated one man more than three times. It kept Nana off her back and hopeful.

But it had been a long time since her last date. Given Nana's mood, she'd probably have to go out sometime soon.
But despite the fact she didn't plan to ever marry, her words perked her grandmother up. Some of Nana's normal spirit glimmered in her eyes. "You won't care about the wedding? You promise?"

"Nana, you know me. I'm more at home in a hard hat than a frilly dress. It's an easy promise to make." Her grandmother just waited. "Okay, I promise. When I decide to marry, I won't give a flying fig about the wedding."

"Well, then, get out and find your man, Dori Salo, because I mean to see this curse broken soon."

Dori just nodded at her grandmother, even as she crossed her fingers behind her back.

Dori Salo was a true believer in happily ever afters...for everyone but herself.

Book, Reviews, Excerpt
From the book:
EVERYTHING BUT A Wedding
By:
Holly Jacobs
Publication Date:
12/08
ISBN:
ISBN: 978-0803499249
Copyright ©
2008, Holly Jacobs
Published By:
Bouregy, Thomas & Company, Incorporated