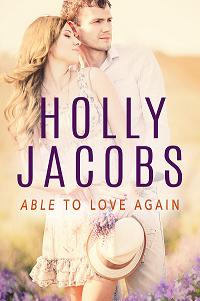 Able to Love Again
A Kindle Worlds Story
by Holly Jacobs
They say when one door closes
a window opens.
Sunny didn't expect her particular window to open in a canyon in Texas. They say everything's bigger in Texas, but she never expected it applied to hearts. But then she meets Josh. He's the real deal...a deputy and a soon-to-be rancher. A man with a heart that seems determined to love her.
Despite a troubled past, Sunny finds herself trusting Josh... the problem is, she can't trust herself.
Join Holly Jacobs' and her characters as they travel to Texas to visit Carolyn Brown's Palo Duro Canyon!