A Hometown Hearts Story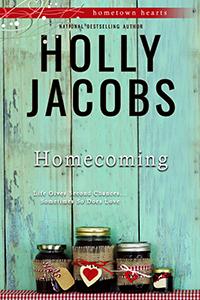 Holt Medallion Award Of Merit &
The Heart of Excellence Readers' Choice Award Finalist
Life Gives Second Chances...
Sometimes So Does Love

Laura Watson lost the only man she's ever loved, her fiancé and the father of her unborn child. Her heart is broken and her life is in pieces.

Lieutenant Seth Keller knows what it's like to lose someone you love. He's there to support Laura. He's there to give her someone to lean on. At least that's what he tells himself. In truth, could it be more? Sometimes life gives people another chance. Are Laura and Seth strong enough to take a second chance at love?

Fans of Jacobs' Crib Notes and A Special Kind of Different will love this latest story in her Hometown Hearts series.
Hometown Hearts Series:
2020
Crib Notes 1/20
A Special Kind of Different 3/20
Homecoming 6/20
Suddenly a Father 9/20
2021
Hometown Hearts Wedding:
Something Borrowed 1/21
Something Blue3/21
Something Perfect 5/21
A Hometown Christmas 9/21
A Hometown Hearts Short Story
Something Unexpected 7/21
Four Star Review: "This is a heartwarming story about the power of second chances." Romantic Times, Alexandra Kay
"Holly Jacobs is my favorite romance writer. Her characters lead ordinary lives in and around Erie, Pennsylvania. They're teachers, cops, grocery store owners, social workers. But, they come to life in Holly's writings as people with problems, yearning for love. She's dealt with issues of illiteracy, teenage mothers, disability, adoption, loss. And, every day is a Homecoming...of the heart in one of Holly Jacobs' books, including this one." ~Lesa's Book Critiques

"Holly Jacobs has spread a lot of holiday spirit in this story, and let us catch up with a lot of old friends in the Kelley family. Make everyday a homecoming day by picking up a copy of this story." ~ Lydia's Reviews
"This second chance at love is a heart-wrenching tale... Readers will relish this entertaining return to Erie." Harriet Klausner
Homecoming "is another wonderful family love story that reminds me once again, families can be anything we want them to be. --ck2skwipsandkritiques.com


Homecoming
copyright: Holly Jacobs
Laura Watson watched the monitor.

The staff had long since turned down the volume, but she could watch the numbers rise and fall on the screen over Jay's head. Blood pressure. Heart rate. The fact that the numbers were there should be comforting. They meant Jay was still here with her.

But she knew those numbers were a lie. She knew that despite the fact his heart was beating, he was gone. He wasn't coming back to her.

Jay had left, though his body remained. To believe otherwise was a lie.

His mother and father stood on the other side of the bed, their faces as ashen as she suspected her own was. His mother clutched his unmoving hand.

"We need to honor..." Laura's voice broke. She took a moment and tried again. "We need to honor Jay's wishes."
They were the hardest words that Laura had ever said. But she knew it was the right thing to do. It was what Jay would have wanted. It's what he made her promise she'd do.

Not that he'd planned this.

Jay was a cop and even in a small city like Erie, Pennsylvania there was always a chance that he'd end up here in a hospital and this decision would be on her shoulders.

As they'd planned their future, planned their wedding, they'd discussed everything, including this possibility. Jay had been clear about his wishes. He didn't want to linger, tethered to this life by machines.

But despite all their conversations about the future, they hadn't envisioned this, because it wasn't a bullet that put Jay here. It was bacterial meningitis. Jay wasn't laid low in the line of duty, but by a tiny bacterium.

"He's not coming back," Laura said. "The doctors were clear."
Even if his body could survive this illness, his mind was gone and he'd never be Jay.

They'd never be married. Their June wedding, only two weeks away, would never happen. No minister would ever pronounce them man and wife. Jay would never know this child.

Laura's hands rested on her still-flat stomach. Jay would never know this baby, and her baby would never know its father.

The thought was a physical pain that tore at her.

She remembered the night she told him about her suspicions. They were engaged and already planning a fall wedding, but she'd still felt nervous, afraid that he'd be unhappy about a baby coming so soon.

She remembered his whoop of joy as he'd hurried across the room, scooped her up and swung her around in his excitement.

She remembered his moment of concern as he realized he was swinging around a pregnant woman.

She remembered his tender kiss and his assurances that this baby was welcome, wanted and was already loved. He'd been the one who'd urged her to push the wedding forward. He'd held her and whispered that he loved her and their child so much, he couldn't wait until fall.

Tears streamed down her face as she remembered that moment when she'd fallen in love with Jay all over again. That's how it was with Jay. Every time she thought she loved him as much as humanly possible, he'd do something that would make her fall all over again and that love would grow exponentially.

"I hope she's beautiful like her mom, both inside and out. Blond hair and blue eyes," he'd whispered. "Smart, creative, sweet..." He'd kissed her cheek after each descriptive word, as if punctuating it.

She touched her cheek, willing herself to feel the imprint of his lips there, but it had long since gone cold.

Now, weeks later, she looked at Jay's parents, her unborn baby's only grandparents. Because she and Jay weren't married yet, his parents were the ones who would have to sign the papers that would allow the staff to remove the life support.

"He made it clear that it's what he wanted," she told them gently.

Jay's mother's face was suddenly animated with anger. "We won't pull the plug, Laura. You can't ask it of us."

"Mrs. Martin, the doctors said he won't come back and Jay, knowing what his job might entail, was clear–"

Adele Watson was a tiny, elfin looking woman who'd been so much more than her fiancé's mother,. She'd been so much more than Laura's future mother-in-law. Laura loved her. But looking at her now, so angry, Laura realized she didn't really know her at all.

"You have no idea how hard a parent will fight for a child, for a miracle," Jay's mother said. "I'm not giving up on my son just because you have."

"Mrs. Martin, I haven't given up anything." Nothing except her heart...her dreams. "I–"

"Get out, Laura. Go. My husband and I will look after Jay. We don't need you here."

Laura looked at the woman she'd grown to love. The woman who'd asked her to call her mom. Laura remembered how she'd laughed and said, After the wedding, when it's official. When she'd said those words, she'd planned on a life with Jay, and his parents becoming her parents. Finally, after years of being on her own, she'd belong to someone–to a family. She could still see the fragments of that imagined future. And the knowledge that it would never happen was crushing.

She'd been counting down the minutes until she and Jay were married. Until he was hers, and she'd call his parents Mom and Dad.

Her heart broke as she pushed back the chair and stood, facing his parents. She knew there wasn't anything left she could do for Jay except honor this one last request and she didn't have the power to do it. "He didn't want this."
She leaned down and kissed his still-warm cheek. It would be so easy to deceive herself. To watch the machine and believe its lie–believe that Jay was in there and he'd be coming back.

But she couldn't afford to believe. And she couldn't do this last thing for him and honor his wishes.

She looked at his mother and father, at the family she'd hoped to belong to, then turned and walked from the room.
Laura knew that the family she'd longed for was an illusion.
But this baby growing inside her–her child and Jay's–this baby was reality. And the family she'd build with the baby was real, too.

Her heart was breaking over Jay, but somehow she'd figure out how to go on for the baby's sake.