Book, Reviews, Excerpt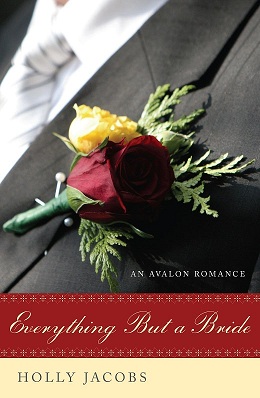 EVERYTHING BUT A BRIDE
by Holly Jacobs
ISBN 978-0803499041
Avalon Books, 8/08

REPRINTED as Large Print by Thorndike, 5/09
REPRINTED by Montlake Romance as an eBook/paperback 9/4/12

Audiobook release 5/2017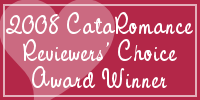 2008 Reviewers' Choice
Award Winner
Every Hungarian Grandma knows that words have power. But Nana Salo never meant the words she said in anger to become a family curse, but that's just what happened. She thought she had a chance of undoing it at her granddaughter's wedding, but when things went awry, she pinned her hopes on her grandson, Noah's wedding.
Noah's fiancée called things off at the stag, but when his ex's younger step-sister, and long-time friend Callie, tries to cheer him up, Noah finds the lines between friendship and love blurring.
Amazon, Audible, BN and iTunes
"Marvelous, delightful family dynamics swirl around a pair of appealing protagonists as they find their way to love.." Library Journal, 8/08
"This addition to Jacobs' Everything But ... series is a delightful, amusing, warmhearted romance. The secondary characters are quite charming. The hero and heroine's relationship is handled in a talented and delightful way." 4 1/2 Stars...TOP PICK
~Romantic Times BookClub
"Lighthearted and sweet, these books are great to share with the women in your lives."
— Barbara Vey, Publishers Weekly Online, June 27, 2008
a "sweet and tender tale of two hearts realizing they should be one."— Maria Hatton, Booklist, July 1, 2008
"Holly Jacobs writes warm, enjoyable romances, filled with family. Despite the family curse, the Salo family is a big, supportive family who love each other. And, friends and co-workers in the Salo Construction, are part of the family. Everything But a Bride moves quickly because it's hard to leave the Salo family, and, in this case, Noah and Callie. The Everything But..series is rated G. In my opinion that means a good book, good entertainment, and gentle romance."
Lesa Holstine, Chicago Sun Times
"Everything But A Bride is Holly Jacobs at her finest. Plenty of tender romance combined with generous doses of family, fun and laughter creates a winning formula and Jacobs knows how to deliver."
"As always, Holly Jacobs delivers a wonderfully charming and funny romance ...I loved Everything but a Bride and I for one cannot wait to see how Holly will end the trilogy and finally break the Salo Wedding Curse." ~ © Kelley A. Hartsell, August 2008. All rights reserved.
"...delightful." Writers Unlimited

"As always Holly Jacobs entertains her fans with a fine tale that has everything." ~Harriet Klausner
"EVERYTHING BUT A BRIDE is a wonderful diversion for the end of summer – don't miss it! this story is full of the warmth of family and lots of laughs, as Noah dates Callie, but forgets to tell her! (And you gotta read it to find out the how and the why)." ~ Romance Reviews Today
Everything But a Bride
w/a Holly Jacobs
Prologue
The Salo Family Wedding Curse

"Tell us a story, Nana Vancy," five-year-old Chris Wilde said as she tucked them under the covers.

"Tell us about when you were a girl," his dark-haired twin, Ricky, added. She knew the story, and knew that they loved it because it had everything to do with how their Uncle and Aunt married.

"I was a beautiful girl. I'm not bragging when I say this, because it is the truth. Many men in my town--"

Chris interrupted. "Erdely, Hungary."

Nana Vancy nodded. "Yes, Erdely, Hungary. And many of the men my age wanted to marry me, because I so was beautiful. My hair was as black like yours, and like your Aunt Vancy's and my eyes as blue. Yes, many men wanted me, but only one would do."

Ricky, supplied, "Papa Bela."

She nodded. "I only had eyes for Bela Salo. I was lucky, back then, and Bela fell in love with me, too. He wanted to marry me, too. My father was the mayor, and he encouraged me to plan the biggest wedding the town had ever seen. I was sure everything would be perfect."

"But he didn't show up," Chris said.

"Right, my Bela wasn't there. I thought he had abandoned me. I was heartbroken and angry--"

Chris nodded. "So you said the words."

"I hope Bela never gets a big, beautiful wedding like this." She could still remember the pain that day, when she thought her Bela didn't love her. Even now, all these year later, even knowing the truth, it hurt.

"And you said, you hoped no one in his family had a big, beautiful wedding, 'cause it would make you remember you didn't get yours," Chris prompted when she got lost in the past and stopped the story.

She nodded, back in the present, looking at her oldest granddaughter's two stepsons. Well, not stepsons, exactly. They were her granddaughter Vancy's husband Matt's nephews. Vancy and Matt were raising them, and the boys were sons in their eyes, which made them great-grandsons in her own eyes. With their dark hair, anyone would take them for her actual grandsons. And they were grandsons in her heart. That's all that mattered.

"Right," she continued. "I said the words because I was hurt and couldn't stand the thought of watching my Bela, and his someday children, have the wedding I didn't get. But in my pain, I forgot that words have powers."

"And when you remembered you went into the woods and said..." Ricky waited.

"I said, I wanted to undo that curse. But if I couldn't take back the words cursing Bela and his family to unhappy weddings, then I asked the powers-that-be to let me add that it wasn't my intention to curse Bela or his family to a life without marriage or love. Just no big weddings that meant more than the marriage."

She admitted, not for the first time, "I'm afraid that's what happened to me. I thought more about the wedding than what came after. So, I asked that the curse be broken when the day comes that someone in Bela's family cared more about love and their marriage and less about their wedding."

"Then Papa Bela came back," Ricky said. "He'd been in an accident."

"I was so happy to see him, so happy to know he really did love me that I never thought about waiting for another big wedding. No, that very day, we found a minister and got married, just the two of us and our best friends there to witness it. I didn't think anything else about those words I'd said until my own children all missed out on their big weddings for one reason or another."

"And you wanted to break the Salo Family Curse when Uncle Matt married Aunt Vancy," Chris said.

"But they didn't wait," his brother chimed in. "'Cause they were in lo-ove." He said the word love with such a sing-songy emphasis that both boys started to giggle in that nervous little boy way.

Vancy couldn't help chuckling herself. "Right. But now your Uncle Noah is getting married and I'll break the curse at that wedding, because he doesn't care at all about the ceremony."

She couldn't believe her luck. The curse would be broken in only a few short weeks because neither Noah, or his fiancée, Julianna, cared about the wedding. They'd left all the details of the wedding itself to her. It would be a beautiful wedding, but that didn't matter to Noah and Julianna, so that meant as soon as they'd said their I-do's the curse would be broken.

She'd brought the curse down upon her family, and one way or another, she was going to see it lifted.

Two weeks from now the Salo Family Curse would be gone forever.

"And after the wedding, there won't be any more curse," Chris said. "And we'll have cake."

"Chocolate cake, right Nana?" Ricky asked.

The chocolate cake had been the boys' request. "Yes, a big, beautiful chocolate cake. And there will be singing and dancing..."

Nana Vancy forgot about the fact the story was supposed to be inducing the boys to sleep as she got lost in rhapsodizing about the upcoming wedding.

"And we'll all live happily ever after," Ricky said.

"Yeah, that's the best story ending."

"You're right, it is," Nana Vancy said. She leaned down and kissed the twin foreheads. "Now, that was a very long story, so I expect no monkey business. Both of you straight to sleep, or I'll be in trouble with your aunt and uncle."

"We'll go right to sleep, Nana. Night," Chris said. The two boys closed their eyes and Vancy Bashalde Salo made her wait out of the room, switched off the light and shut the door.

Two more weeks and the curse would be lifted. She'd planned everything.

Nothing could go wrong.

Could it?
From the book:
EVERYTHING BUT A BRIDE
By:
Holly Jacobs
Publication Date:
8/08
ISBN:
ISBN: 978-0803499041
Copyright ©
2008, Holly Jacobs
Published By:
Bouregy, Thomas & Company, Incorporated