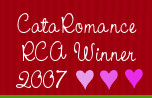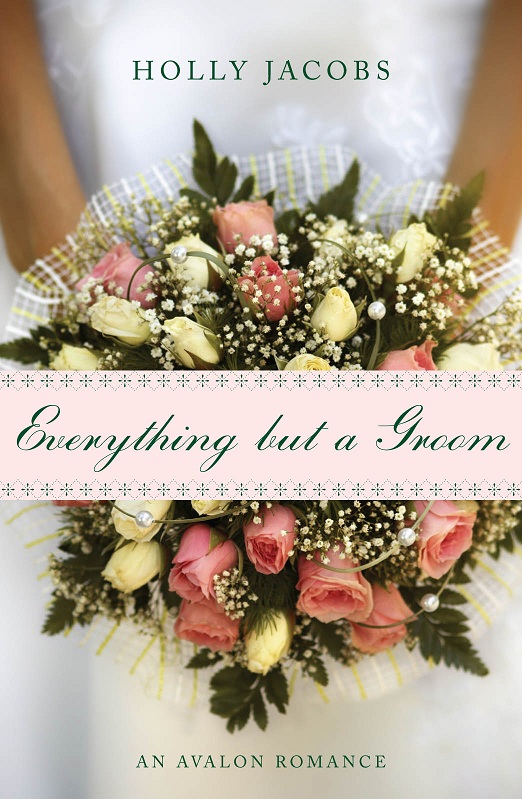 In its 2nd Printing!!
EVERYTHING BUT A GROOM
by Holly Jacobs
ISBN 978-0-8034-9864-8
Avalon Books, 12/07
Named one of the TOP TEN Romances in '08 by Booklist!
REPRINTED in a hardback/large print version by Thorndike, 2/09
REPRINTED by Montlake as an eBook/Paperback 11/20/12

Audiobook release 5/2017

Every Hungarian Grandma knows that words have power. But Nana Salo never meant the words she said in anger to become a family curse, but that's just what happened. Her granddaughter Vancy is just the newest victim. Vancy's fianc é's left her at the altar, and now the press is after a hot Grandma-curses-granddaughter's-wedding story.
Vancy doesn't believe in the Salo Wedding Curse, but when her groom ditches her, and the press is hot on her heels, she's not quite so sure she doesn't believe. She's hiding out with Matt Wilde, owner of Everything Wilde landscaping business, helping out with his two newly inherited nephews as she figures out what to do.
Matt doesn't believe in curses either, but he seems cursed with thoughts of Vancy Salo that he just can't seem to shake.
A hoard of reporters, a guilty grandma, a gaggle of other family members and two four-year-olds that both steal their hearts, and wreak their own havoc. It's not exactly a classic situation for falling in love...but that's just what might be happening for Vancy and Matt.
***
Each of the books stands on its own, but if you want to read the whole series, the order is:
Everything But a Groom
Everything But a Bride
Everything But a Wedding
Everything But a Christmas Eve
Everything But a Mother
Everything But a Dog
Amazon, Audible, BN and iTunes
"Charming..." Publisher Weekly
"Holly Jacobs has a knack for creating likable characters... a fun, romantic story of two people who discover they need each other."— Lesa Holstine, USA Today, December 27, 2007
"Holly Jacobs has done it again! Everything but a Groom is a heart-warming and uproariously funny story." ~Kelley A. Hartsell, June 2007. All rights reserved.
"...it seems too good to be true, and too good to pass up Jacobs' very sweet tale of love." ~Marie Hatton, Booklist (starred review)
"...a sweet and charming love story awash with fun and humor." RT BookReviews 4 Stars
"Brilliantly funny Holly Jacobs hooks us with another best seller waiting to happen; EVERYTHING BUT A GROOM." ~CataRomance
"This lighthearted story is the perfect quick read that will warm the coldest winter night. EVERYTHING BUT A GROOM is a guaranteed keeper." ~ Diana Risso, RRT
"From the zany and fun world of Holly Jacobs mind comes the delightful story of Everything But a Groom." Lydia Funneman, Writers Unlimited
EXCERPT Everything But a Groom
by Holly Jacobs
Prologue
The Salo Wedding Curse

Vancy Bashalde was the most beautiful woman in the small town of Erdely, Hungary. She was the much loved and cosseted daughter of the community's mayor, but she didn't think of herself as spoiled. It wasn't that she expected things to go her way due to some sense of self-importance or entitlement, it was simply that things did go her way and so why would she expect them to change direction?

When Vancy set her sights on Bela Salo--a carpenter with amazing skills and an even more amazing smile, a man who made her laugh, a man who she knew saw more than her physical beauty, but saw who she was inside, where it mattered–-she wasn't surprised when he fell in love with her as completely as she loved him. That's just how things happened for Vancy Bashalde.

Never had a wedding been planned with more care and love. It was to be the most elaborate wedding the small town of Erdely had ever seen. Vancy would walk down the aisle of the church to the man she loved and they, of course, would live happily ever after.

When her wedding day arrived, the sky was bright blue, the sun beat on the springtime fields, and everything went just as Vancy had planned.

Yes, her picture perfect wedding day had arrived...but unfortunately the groom, Bela Salo, hadn't.

Shamed in front of the entire town, Vancy held her head high and proclaimed it was for the best. She put on a good front, but she was brokenhearted. The woman who always had things go her way, suddenly discovered what disappointment was, even worse, she discovered what having a broken heart meant.

As she packed up the remains of her wedding that wasn't, Vancy uttered the words, "I hope Bela never gets a big, beautiful wedding like this." As an afterthought she added, "I hope that no one in his family does."

After all, if Vancy Bashalde, the pride of Erdely, couldn't have her big, perfect wedding, then neither Bela nor his heirs should have one.

It wasn't the thought of Bela's wedding that really cut at her, it was thinking of Bela marrying some other woman. It was the thought of having to watch him love someone else, then someday having to witness their children marry and see the two of them standing side-by-side, sharing a love Bela had obviously never felt for her.

As she calmed down, Vancy–-who despite her heart-break was still a hopeless romantic-–realized what she'd done when she said those words out loud. In Hungary, it was common knowledge that words had power and that magic does exist.

What if she'd set into motion a chain of failed weddings and broken hearts? She couldn't stand the thoughts of others suffering the kind of heartache she was. Even if Bela didn't love her–-her heart broke all over again at the thought–-she couldn't stand to think of him suffering like she was suffering right now.

So she tried taking the words back, but wasn't sure it worked. Just in case, she tried to lessen their impact. She went into the woods, so no one would overhear her and think she was going insane, and said the words outloud so that whatever power was listening would hear. "If I can't take back the words cursing Bela and his family to unhappy weddings, then let me add that it wasn't my intention to curse Bela or his family to a life without marriage or love. Just no big weddings that mean more than love does. I'm afraid that's what happened to me, I thought more about the wedding than what came after. So, when the day comes that someone in his family cares more about love and their marriage and less about weddings, then please, please let that break my curse."

Days later, Bela arrived back in their small town of Erdely. He'd been in an accident and hadn't skipped out on their wedding at all. Overjoyed--well, not overjoyed that he'd had an accident, but rather that he was alright and still loved her--and relieved, Vancy didn't even consider trying for another big wedding. They found the local priest that very night and married immediately. Soon thereafter they moved to the United States and Bela took his knowledge of carpentry and began a small, specialty business, that over the years grew into a large, family-owned construction company.

Salo Construction became well known and respected in Erie, Pennsylvania.

Vancy forgot all about her silly words until years later when her children started to dream about weddings...weddings that never quite worked out.

Vancy became sure that her curse was at fault, and she hopes that if one of her grandchildren care more about love than a wedding, it will be broken.

Vancy's desperate to break the curse that she in fact started. She's learned the hard way that words have power.
But no one should underestimate the power a guilty grandmother wields.
Chapter One

Vancy Salo had everything under control. She'd checked the weather forecast and all of Erie, Pennsylvania t.v. station's weather-people solemnly promised her tomorrow was supposed to be in the mid-seventies and sunny. Perfect June weather was all of their forecast.

But just in case they were wrong, she had tents put up in the backyard. The tents also served as insurance that none of the guests ended up with a case of sun poisoning.
Vancy had talked to Father Martin at St. John's and he assured her he'd had a physical last week, as per her request, and had passed with flying colors.

But just in case, Father Jackson from St. Luke's was on standby.

She had doubles of everything.

Even two wedding cakes.

Vancy had the wedding dress she'd picked out, but had also had her mother's never-worn wedding dress altered and it was in her closet.

Yes, Vancy had tried to plan for every contingency, believing her grandmother's story just enough to worry that whatever could go wrong, would go wrong. Convinced after years of hearing her grandmother's stories about failed family weddings that it was best to be prepared.

Why, Vancy even had a firehall two miles away that she could move the reception to if there was weather so bad the tents wouldn't offer enough protection.

Yes, the younger Vancy Salo had planned for everything. But that did little to comfort her grandmother, Vancy Beshalde Salo, affectionately referred to as Nana Vancy. And her grandmother was quite vocal about her frustration with her granddaughter's wedding plans.

"...and I begged her to just elope with her Al and break the curse, but you know children these days, they scoff at the old ways, and not one of my grandchildren believes in the curse anymore than my own children did."

"Nana Vancy," Vancy said, at the moment more annoyance than affection in her voice.

Her grandmother was a force to be reckoned with. Only four foot eleven and a half–-she always added the half because she said with her definite lack of inches, every half counted--she was a white-haired dynamo. She looked up as Vancy approached. "Vancy, sweetie, meet John Warsaw. He's a reporter and works for the paper."

Vancy pasted her business smile on her face, as she shook the reporter's hand. "Nana, John and I are well acquainted. He's the reporter who wrote that lovely piece on Salo Construction for the paper last month."

"Thank you so much for the invitation to the wedding," John said.

Vancy would have preferred honoring her grandmother's request for a small wedding, but the fact that she was a part of Salo's Contruction, and that her fiancé, Alvin Michaels was running for City Council, made a big wedding a business opportunity, as well as a chance to convince her grandmother there was no such thing as the Salo Wedding Curse.

Nana Vancy had told the story of her own aborted wedding, and the subsequent curse so many times, Vancy knew it by heart. The whole family did. And Vancy, along with her brother Noah, and sister Dori, had been told all their lives that it was up to them to help break the curse because Nana Vancy couldn't go to her deathbed under the weight of future family weddings be destroyed. Whenever Nana, an irrepressible woman who showed no signs of slowing down, made that particular plea, she made it sound as if that deathbed were just moments away.

So although Vancy, along with the rest of the family knew the story backwards and forwardds, Vancy would prefer that a reporter didn't get a hold of it. She could see the headlines, Family Curse Alive and Well in Erie, PA. Not that the curse would be alive after today. Once she and Al walked up the aisle together and said their vows, her grandmother would be able to rest easy. But in the meantime, it was best to separate Nana from any and all members of the press. "John, I hope you don't mind if I borrow my grandmother."

"Certainly. But Mrs. Salo, I'd love a chance to talk to you more later."

"Why certainly, young man." Nana Vancy winked at the dark-haired young reporter.

Vancy smiled back at John, then hurriedly led her grandmother away. "Nana, you were flirting with the man."
"Vancy, sweetie, your grandfather doesn't mind if I look at a pretty boy, as long as I don't touch."

Vancy moaned in harmony with her grandmother's laughter.
"Nana, I know the bride's supposed to be the one who's nervous, but in this case, we're all worried about you."

Nana's laughter immediately died. "Sweetie, I'm not nervous, I'm just so sorry you're going to have to suffer through the pain of an aborted wedding." She looked up. "The sky is looking a little overcast, so maybe it's going to be a freak storm blowing in off the lake that does it in. I'm on pins-and-needles waiting to see just how the curse manifests itself and ruins your beautiful wedding. You should have eloped, like I said. Then we could have had a huge celebration for you afterward, with no fear of cosmic reprisals."

Vancy didn't know why she bothered to try and convince her grandmother, but she always felt almost obligated to have a go at it. "Nana, there is no Salo Family Wedding Curse." Her grandmother shook her head. "Tell that to your poor mother and father. Poor thing didn't have a clue what she was getting into when she joined the family. There's no Salo Family Wedding Curse, is just what she said...until lightning hit the church and it burned down to mere ash on the ground. I told your grandfather it was our fault and Salo Construction rebuilt it at cost, but he complained a lot. I reminded him of the fact that I might have made the curse, but he's the one who missed our wedding and started things in motion. After the fire your mother came to her senses and eloped after that."

Vancy gestured towards the sky. "Notice the three lightning rods I've had installed around the property? We're fine."
Nana Vancy just shook her head, white curls shellacked in place and never moving an inch. "What about your Uncle's wedding? He thought taking it on the water would save him, but the boat sank sending his huge wedding party and all his guests went right into the water."

"Thankfully, it hadn't left the bay yet, and everyone got off the boat before it was even a half a mile from the dock, but you'll note, we're getting married on dry land."

"I've spent years worrying about the curse, and I think that if you didn't care about the wedding, it would be fine and the curse would be broken, but you do care, don't you?"

Vancy nodded. It was the truth, she did care. The wedding was a great opportunity for Al to make connections that would help him win his Council seat, and it was good for Salo Construction as well.

"Yes, that's what I was afraid of."
From the book:
EVERYTHING BUT A GROOM
By:
Holly Jacobs
Publication Date:
12/07
ISBN:
ISBN:
Copyright ©
2007, Holly Jacobs
Published By:
Bouregy, Thomas & Company, Incorporated