(Copyright 2005 Harlequin Enterprises Limited® and ™ are trademarks of the publisher)
Perry Square: Where Love is Found...and Lasts Forever

Once Upon a King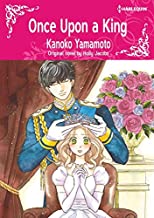 by Holly Jacobs
Silhouette Romance, 9/05
ISBN 0-373-19785-3
WALDENBOOK's BESTSELLER!!
GOLDEN LEAF Award WINNER
Beacon Award Finalist
More Than Magic Finalist
Erase Una Vez Un Rey
(Once Upon A King)
(US Spanish Release)
Harlequin Jazmin, 2/08
ISBN-13: 978-0373683932
Cara Phillips is quiet and shy. Except when it comes to protecting her friends. Then she surprises even herself with her fierceness. Three months ago she watched both Parker and Shey meet the unexpected men of their dreams and fall head-over-heels in love. She met a mysterious stranger and did something totally out of character--she has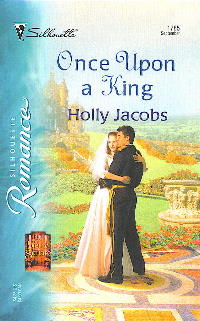 a one night stand. When she woke up the next morning he was gone. She left, and discovered a month later she was pregnant. Now, she's three-months along and heading to Eliason to plan a secret, private, family ceremony for Parker and Shey. Later they'll have big public ceremony. When she gets off the plane, she finds her mystery man. Only he's not the mystery she thought he was. He's Parker's brother.
Prince Antonio Michael Paul Mickovich Dillonetti is known to family and friends as Michael. He's heard his parents story, of how they met and immediately fell in love, but he never really believed in love-at-first-sight. That is, not until he met a woman three months ago. After spending the most incredibly passionate night, he left to bring her breakfast and returned to the room to find she had left. He didn't even know her name, but he knew he had to find her again. He's called home to help prepare for his sister's wedding, but he's hired his future PI brother-in-law to try and find his mystery woman. Imagine his surprise when she walks off the plane and turns out to be one of his sister's best friends. It's kismet. Destiny. It's instantaneous, true and everlasting love. Michael might know it, but Cara's not so sure. For someone who claims to be shy and quiet, she's not so much! The convincing gets even harder when he finds out she's carrying his baby and thinks he's proposing out of some sense of honor, because he has to. He does have to...he's in love with her.
>
Barnes and Noble
BAM
iTunes
Kobo
Readers will be enthralled by Cara and Michael's adventure." Romantic Times BOOK Club, 4 stars!

"Holly Jacobs wraps up her ONCE UPON… series with a bang. ONCE UPON A KING is a great read that will have you turning pages to find out what mess Cara gets into next. Fast paced and funny, this story brought back many of my favorite characters from Perry Square, and left the door open for more adventures in Erie, PA. If you're looking for a feel-good read, this is it." ~Cat Cody, Romance Junkies

"Once Upon a King is another absolutely wonderful, sweet novel by Holly Jacobs. She has the ability to create dynamite characters that appeal to the reader and pull at the emotions. You can't help but wish for a happy ending for these two. After reading this one, place it on your keeper shelf, right next to Once Upon a Princess and Once Upon a Prince." ~Debby Guyette, CataRomance Review 5 Stars!

Sit back, relax, and get lost in this charming tale, for it is certainly a winner. ~© Kelley A. Hartsell, LoveRomances.com 4 1/2 Stars!
"The final tale ONCE UPON A KING is a wonderful regal romance mindful of Roman Holiday as the audience will ponder whether Prince Mike can convince his beloved commoner that she is his queen or will she return to the Keystone State and her bookstore. Holly Jacobs provides a fine conclusion to a whimsical regal miniseries" ~Harriet Klausner
EXCERPTOnce Upon a King
by Holly Jacobs

Silhouette Romance, 9/05
ISBN 0-373-19785-3
Excerpt: (Copyright 2005 Holly Jacobs)
Prologue
Cara Phillips looked out the window of the plane as it made its approach to Eliason, a small European country that most of the world overlooked.
But to Cara Eliason was magical.
A real life kingdom.

For a minute she wondered what it would be like to have an entire land and know that it was yours...your responsibility, handed down generation after generation. To protect, to guide, to cherish.

Cara's best friend, Parker Dillon, had been born here. Parker was a princess. Princess Marie Anna Parker Michaelovich Dillonetti of Eliason.

But Parker had traded away her legacy and chased after her dreams...dreams that had led her to Perry Square in Erie, Pennsylvania, and to Jace O'Donnell, the man she was going to marry in just a month.

Four short weeks.

Their friend Shey Carlson and her fiancé, Tanner Ericson, were going to be married as well.

A double ceremony.

Cara's romantic heart gave a small twist.
Truly, Parker and Shey's romances were more than sigh-worthy.

Shey hadn't been looking for love. Especially not with a Prince. Prince Eduardo Matthew Tanner Ericson of Amar had come to Erie to claim his bride–-Parker. But instead he'd claimed Shey's heart.

Shey was rock hard on the outside, but that was just a veneer. On the inside she was caring, concerned and so deserved having a prince.

Cara sighed again. It was all so wonderful.

Her two best friends had found their other halves, men who they loved and were willing to commit their lives to.

Once upon a time, Cara had thought she'd find a similar path.

For one brief moment three months ago, she thought she had.

Mike King.

He'd appeared in her life, bringing with him a whirlwind of emotion and hope...hope that she'd found what she'd been looking for. But he'd disappeared, leaving behind a longing for what-might-have-been.

She had just one night, one special night when she'd believed all her fantasies could come true. On that night she'd believed in love-at-first sight and happily-ever-after.
Ten it was morning and Mike was gone. In the light of day, Cara awoke to the reality with a thud.
Mike had been just a hazy dream, a misty longing she had thought could grow into something solid. But, like a mist, the morning sun had burned her dream of him away. All she had left was a memory of the dark-haired man whose deep blue eyes had seemed to touch her soul, and the knowledge she'd deceived herself into thinking he'd felt a connection to.
But he'd left her something tangible. Something solid and oh-so-real.
The plane touched down and Cara allowed herself one last wistful sigh.
She was going to see to it that Parker and Shey and their grooms had the most perfect fairytale wedding ever.
They'd have someone to love forever.
And in the end, so would Cara.
Not Mike King. He was just a dream that had come and gone. No, she was going to have a real someone.
She was going to have Mike's baby.
From the book:
Once Upon a King
By:
Holly Jacobs
Imprint and Series:
Silhouette Romance
Publication Date:
9/05
ISBN:
0-373-19785-3
Copyright ©
2005
By:
Harlequin Enterprises
® and ™ are trademarks of the publisher.
The edition published by arrangement with Harlequin Books S.A.
For more romance information surf to: http://www.eHarlequin.com