Book, Reviews, Excerpt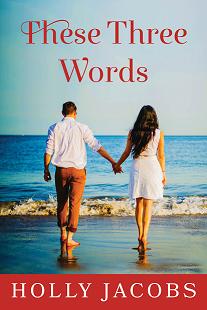 These Three Words
by Holly Jacobs

Words of the Heart #2
Montlake Romance, 2015


Sometimes the deepest love isn't discovered...it's rediscovered.

Adeline remembers that she loved her husband, Gray, once upon a time. But only in the most academic sense. Try as she might, she can't find her way back to the feeling. A tragedy provided the foundation of an ever-growing wall between them. But when another tragedy befalls Gray, Addie finds herself at his bedside waiting for him to wake up. And as she waits for him she begins to remember those happier times. As she delves into their past, she begins to remember the love they once shared. Those memories help her breach the wall they'd built between them.
And the three words they'd once said to each other become the bridge they need to find their way back to a love that had never really died.
Have a book club?? If you're reading These Three Words, I have questions for you
here
.
Words of the Heart Series:
Carry Her Heart
These Three Words
Hold Her Heart
Between the Words (coming in 2017)
"...a heart breaking love story with exceptional scenes...highly recommended." ~Obsessed Book Reviews
"These Three Words by Holly Jacobs is about rediscovering love, even during the toughest times." —Harlequin Junkie
EXCERPT


These Three Words
By Holly Jacobs

Copyright 2015
I sat with James for another half hour until the nurse came and got him. "Mr. Patterson, your wife is awake and asking for you."

I squeezed his hand before he got up. "Good luck. I hope that Anne's recovery is quick."

"Me, too," he said. "Good luck to your husband…I hope you don't have to wait much longer."

I watched as he walked out of the room next to the nurse. There was more of a lift in his shoulders, as if he was lighter now that the weight of waiting had ended.

I missed him when he left.

It was odd to feel a connection to someone and not even know their last name.

I knew his name was James with an S and he was married to Anne with an E. And I knew that he loved her.

Maybe all the rest—his last name, his occupation—didn't mean so much after all. Maybe what mattered was a man named James loved a woman named Anne and planned to wait as long as it took to have more time with her.

I'd always thought my love for Gray was limitless, but looking back, it couldn't have been. I placed a limit on it. The evidence of that was in my hand.

I'd proven that I wasn't willing to wait any longer.

And I wondered if that was because of Gray…or some inherent flaw in me.
From the book:
These Three Words
By:
Holly Jacobs
Publisher:
Montlake Romance
Publication Date:
11/15
ISBN:
978-1503949676
Copyright ©
2015
By:
Holly Jacobs