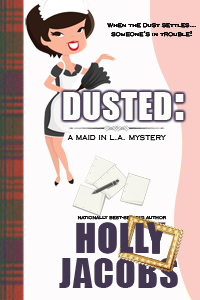 Dusted:
A Maid in LA Mystery
Book #2

by Holly Jacobs
Out Now for Kindle!!
Quincy's trying her hand at writing a script based on the murder mysetery she solved. She's taking care of her boys, wearing a pumpkin orange maid of honor dress for Tiny's wedding, and oh…she's got another case. Someone stole Mac'Cleaner clients' artwork, and Quincy's employee is under suspicion. Not just the employee, but the entire business.
This is one LA maid who's got a lot on her plate in Holly Jacobs' second Maid in LA Mystery, Dusted.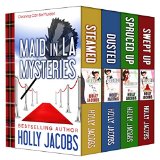 Buy the first four Maid in LA books in one
Bundled addition for 50% off what they'd cost individually.
Includes 1.Steamed, 2.Dusted, 3.Spruced Up and 4.Swept Up.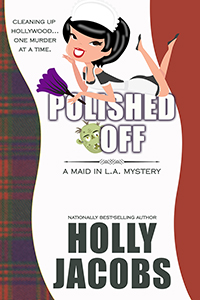 Polished Off:
A Maid in LA Mystery #5
~~~
Note from Holly: You saw in my dedication that this book is for my Duets friends. We all found each other because we wrote for Harlequin's comedy line—Duets. In the years since that line folded, we've gone on to write books with murder and mayhem, with intrigue, with red-hot passion and with heart-wrenching drama. Sometimes we still write comedies. When I asked a few of these funny friends to help me out with some reviews, they were sooooo helpful. I think you'll agree their comedic roots are showing in their responses! I can't decide who was more helpful…my friends or my family (who reviewed the first Quincy Mac book, Steamed: A Maid in LA Mystery).

"When someone asks what you did today, just say, "DUSTED." They don't have to know it's a delightfully sparkling Maid in LA mystery by Holly Jacobs, now do they?"
~Jenn McKinlay, NYT bestselling author of the Library Lovers mysteries and the Cupcake Bakery mysteries


"If this thoroughly delightful, smart and funny gem is the only book you read this year—you need to read a lot more often."
~Isabel Sharpe
Half-Hitched, Harlequin Blaze, August 2013
"Thank God she finally found a legal outlet for those weird urges of hers."
~Carolyn Greene,
Finding Favor
Finding Faith series #1, Harlequin Love Inspired, 2013
"Dead bodies in bedrooms, stolen art?? Oh, my, how amusing. I, um, have to tell you, Holly, that as much as I have loved sharing a hotel bedroom with you at many a writing conference, my nerves are too—um, my schedule's too full to be able to room with you anymore. Seriously, Holly's one of the funniest women I know. And she's a darned good room-mate to boot!"
Nancy Warren
Frosted Shadow, A Toni Diamond Mystery

EXCERPT

Dusted: A Maid in LA Mystery
Copyright 2013, Holly Jacobs



I looked in the mirror and felt nothing but…horror.

Orange?

I have never owned any orange clothes, so I must have suspected all along that orange might not be my color, but looking in the mirror, I was positive—orange was soooo not my color.

Frankly, I don't know that orange is anyone's color. I mean, Tiny could keep calling it rustic pumpkin until the cows came home, but the fact of the matter was, my maid-of-honor dress was orange.

The other fact of the matter was, I looked like giant pumpkin.

"Quincy Mac, you are absolutely stunning." Tiny's voice was all breathless wonder.

The last two weeks she'd gone from wedding-itis to full blown wedding-fever. Everything she said was breathless.

Breathless wonder.

Breathless excitement.

Breathless anticipation.

"Breathe, Tiny," I reminded helpfully as I had countless times the last few weeks.

"You look so…" She stared to cry.

Breathless and crying. Those were Tiny's two modes of communication as her wedding day drew nearer.

I filled in the blank while I waited for her to compose herself.

You look so…much like a pumpkin.

You look so…scary.

You look so…much like a tangerine. Oh, who was I kidding, I was no tiny tangerine. I was a full-on naval orange.

I sucked in my baby-pooch and wished I'd thought to bring my body-sucker. Oh, I know that's not what it's actually called. These days people call them by their name brand. My grandma Mac called hers a girdle and I don't think I ever saw her without it on. I'm pretty sure she was buried in it.

Note to my boys who would some day be in charge of burying me. Do not bury me in a body sucker.

"…so beautiful," Tiny finally managed.

I smiled and put all of Mr. Magee's acting classes to use by assuring her, "I love it, Tiny."

I didn't love it, but she did and that's all that mattered. Too many people forget that a wedding is the bride and groom's special day. It's the one day when thinking about yourself isn't the least bit selfish. If she wanted me to look like a pumpkin, then by gosh, I'd be a smiling pumpkin as I walked up that aisle.

Tiny's wedding was three weeks away. I had promised myself I'd do everything in my power to be sure it was perfect.

Heck, I'd even found out who murdered Mr. Banning in order to see to it I wasn't in jail for Tiny's wedding.

Okay, truth was, I didn't want to be in jail period. And since I'd accidently cleaned Mr. Banning's murder scene, I was the only viable suspect.

Yeah, that's right. I cleaned it. I washed and polished the murder weapon. I even steamed the footprints off the carpet.

My Uncle Bill went to jail for a crime he didn't commit. Eventually the authorities realized he was innocent. They let him out of prison, but came out with a tattoo. Mac's do not get tattoos. Or go to prison for that matter.

I was determined not to go to jail and leave my boys, or miss Tiny's wedding…or get a tattoo. I just didn't think a tattoo would age well. I was thirty-eight, and though I avoided the sun as if I were a vampire rather than simply a fair-skinned woman, I knew that wrinkles would be forthcoming. And who wants to see a wrinkled tattoo unicorn, even if it was a declaration of my innocence?

No one, that's who.

Thankfully, I found the murderer. Of course, he tried to kill me to keep me quiet, but I grew up with brothers and three sons. I kicked him and made it count. I rescued myself before Cal came in to rescue me.

Detective Cal Parker, my new boyfriend. It felt so odd to use the word boyfriend when I was the mother of three teens and almost forty (sigh) but I hadn't come up with any better designation for him.

I must have sighed as I thought about my cute, hunky new boyfriend because Tiny laughed. "You're thinking about him, aren't you?"

"Him, who?" I asked, trying to sound as if I didn't have a clue what she was talking about.

"Him—Detective Sexy."

"I was thinking about your wedding."

Tiny laughed some more and humphed me in a way that I knew meant she wasn't buying it.

The phone rang. I sucked in my stomach as I walked across the room in my pumpkin colored dress. I picked up the phone. "Mac'Cleaners. We do it all and we're glad you called. How may I help you today?"

"Quincy, it's me," a woman's voice said.

I didn't need any more than that to know it was Theresa Maxwell. She was officially the worst employee Mac'Cleaners had ever had. To be honest, that whole cleaning-Mr.-Banning's-murder scene was her fault because she was supposed to be the one cleaning the dead-body house that day, but she'd called in sick. When an employee calls in sick, Tiny and I—as the business owners—step in and fill in for them. So Theresa is why I'd almost ended up in jail for a murder I didn't commit.

Theresa really was the worst employee ever, not just in an almost-sent-me-to-jail sort of way.

I'd like to fire her. I'd threatened to do just that, but I kept hoping she'd get better. Seriously, she couldn't get any worse. Although this call didn't bode well for the getting better and seemed to be pointing to worse. There was panic in her voice.

"What's up, Theresa?" I asked suspiciously.

"It's not what's up, it's what's down. I was dusting a painting at the Gifford's house and it fell. There's a tear in it now."
***
Join Quincy as she has to solve another mystery...this time to save her business!
And w atch this holiday season for a special Maid in LA novella...Spruced Up. Quincy's heading home to Erie, PA for the holidays, but mysteries and mayhem follows her!
From the book:
Dusted:
A Maid in LA Mystery
By:
Holly Jacobs
Publication Date:
Fall 2013
Copyright ©
2013
By:
Holly Jacobs