Once Upon a Valentine's
by Holly Jacobs
When they miss the first PTA meeting of the year, three women who had perfected the art of avoiding PTA jobs find themselves 'volunteered' into the Social Planning Committee. Over the coming school year, they not only plan a Thanksgiving Pageant, a Christmas Fair and a Valentine's Dance, they also all find love...and a deep friendship that will outlast their stint on the committee!

After Carly Lewis's bitter divorce she feels as if she somehow faded. She knows she's not as colorful as she was in college, that in the course of her marriage she's lost herself. She wants to rediscover herself...find out what color she is now that she's on her own. So Carly's finishing college, working and studying for her nursing boards. She doesn't have the time or inclination for love. Which makes the fact she's planning Erie Elementary's Valentine's Dance more than a bit ironic. She doesn't anticipate finding a spark with a man again, but when she meets Lieutenant Charles "Chuck" Jefferson, it's not a mere spark, but a full-fledged blaze. Literally. Her shed and a neighbor's shed are accidently burned down. She discovers that Chuck might just be the perfect man for her new life.

Lt. Charles "Chuck" Jefferson lets Carly know he doesn't believe in love either...at least not for himself. He's seen firsthand that long-term is hard to make workfor cops. The longest any of his relationships lasted since he joined the force is around six weeks. That's just perfect, as far as Carly's concerned. But what they have quickly feels like more than a fling. Carly worries that she's somehow losing herself again–just like she had with her ex–and she pulls back.

Chuck never thought he'd find a woman who'd be able to handle a cop's erratic schedule and life. But Carly's so independent, so able to stand on her own two feet, he's pretty sure she can handle anything. But she's shut him off. When he finally corners her, she starts talking about her color fading. Chuck's a guy...he doesn't follow her convoluted explanation, but he assures her that he doesn't care what color she is. If she's too busy for something, or doesn't want to do it, all she has to do is say so. He just wants her. He loves her.

In Once Upon a Valentine's, Carly's got to learn that although the old adage once burned twice shy is a good one, sometimes a fire can just warm you not burn you at all. When you find the right man, you don't fade...your color becomes more brilliant than ever.



All three books + a new short story


Barnes and Noble

"An overcommitted and lovable but prickly heroine and a no-nonsense hero spar brilliantly in this sassy, tender, sometimes hilarious romance set in Jacobs's hometown of Erie, PA. Another winner from the author of Once Upon a Christmas." ~Library Journal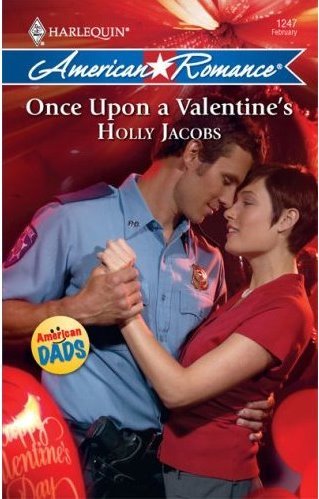 "ONCE UPON A VALENTINE'S (4) by Holly Jacobs: After Carly burns a couch -- and the neighbor's shed -- she's court-sentenced to help steamy lawman Chuck teach fire safety classes in the schools. As things heat up with Chuck, Carly struggles to balance her responsibilities: her kids, her last semester of nursing classes and her PTA seat. And when Chuck isn't satisfied with keeping things casual, Carly gets in way over her head! Jacobs reminds readers that not having time to fall in love won't keep it from happening. She's pitch-perfect with her child characters and has created an extended family readers will be delighted to revisit for a sequel." ~Romantic Times BookClub
"The key to this enjoyable holiday celebration of the PTA of Erie, Pennsylvania (see ONCE UPON A THANKSGIVING and ONCE UPON A CHRISTMAS) is like the predecessors the strong cast. The lead pair is a delightful pairing of workaholics; the children shockingly behave like children; and the return of the stars of the previous contemporaries make for a terrific romance. Holly Jacobs writes another entertaining Erie PTA romance." ~ Harriet Klausner
"I loved meeting the ladies of the Erie Elementary PTA's Social Planning Committee. Their lives and loves are beautifully portrayed by creative Holly Jacobs in her light-hearted, down-to-earth fashion. ONCE UPON A VALENTINE'S is the last of the series and Ms. Jacobs does a wonderful job of tying up all the loose ends and leaving her readers with warm fuzzy feelings. Each book stands alone but do not miss all the tender family interaction and hilarious high jinx; get the whole series." ~cataRomance
"Holly Jacob's trilogy about PTA moms speaks to the heart with its tenderness, heart, and of course humor. After all, who wouldn't find the cause and effect surrounding Carly's arson charges amusing when Holly weaves her comedic magic? I loved this trilogy..." Kelley Hartsell
ONCE UPON A VALENTINE'S
copyright 2009
Holly Jacobs
Carly Lewis threw her books into her bag and hollered, "Sean. Rhiana. If you're not in the car in two minutes I'm leaving without you."

She heard hurried scuffle and groaned responses from upstairs and knew her two seventh graders believed her warning. She actually had followed through on this particular threat last year, right after she and the kids had moved from their upscale Millcreek subdivision to the small bungalow on Erie's upper eastside. They'd been running late, and she'd had enough and had just left without them.

Of course, even though their school was within walking distance, she'd felt guilty seconds after she'd pulled out of the driveway so–soft-touch that she was–she'd simply circled the block. She'd pulled back in front of the house and found them standing there. They looked so much alike they could be actual twins rather than siblings born ten months apart. They'd appeared so forlorn and unsure. And as always, simply looking at the two of them melted her heart.

As they'd climbed into the car she'd warned them that next time she wasn't coming back and they'd be forced to walk to school. They seemed to take the threat seriously, which helped with her rather hectic morning schedule. But she knew she'd always come back. That's just what mother's did.

"One minute," she called as she surveyed her bag, hoping she'd remembered everything.

Thirty-two and finishing her degree–it's not what she'd intended. Thankfully, almost all her old credits had carried over. If she could get through this last term, she'd have it made. She'd have her degree in December and in the new year she'd be ready to start a new life.

The life of a single, self-supporting college graduate and mother.

The phone rang.

Carly glanced at her watch. No one ever called at eight o'clock in the morning with good news. And even though she knew she shouldn't, that a phone call this early was never good news and answering was probably a mistake, she picked the portable up. She wasn't any more able to walk away from a ringing phone than she was able to drive away and leave her kids. "Hello?"

"Hi, Carly. It's Heidi."

Answering the phone wasn't just a mistake, it was a huge, tactical error. One she might never recover from.

Heidi.

She didn't have to ask Heidi who.

Heidi.

The PTA President for that last three years.

Heidi.

The perfect, terminally optimistic, sunny force of nature who practically ran Erie Elementary on the eastside of Erie, PA.

Carly's sense of dread intensified as she realized she'd missed last night's first PTA meeting of the year. And the fact that Heidi was calling this morning said that missing it had been a bad, bad mistake.

"I'm about to leave for school, Heidi. Juggling the kids, work, an internship and classes is about killing me. Can I call you back later?"

Like when hell froze over.

Yep, that would be about the time she'd return Heidi's call.

"It will only take a moment," Heidi said fast, as if she was afraid if she didn't spit the words out quickly, Carly would hang up on her. "I'm sending a packet home with the kids. It will have everything you need to get started."

Carly didn't want to ask because asking would make it real, but to her horror found the words slip out of her mouth...

"Get started with what?"