Once Upon a Christmas
by Holly Jacobs
Booksellers' Best Finalist
and a Holt Medallion Award Top Five!!
When they miss the first PTA meeting of the year, three women who had perfected the art of avoiding PTA jobs find themselves 'volunteered' into the Social Planning Committee. Over the coming school year, they not only plan a Thanksgiving Pageant, a Christmas Fair and a Valentine's Dance, they also all find love...and a deep friendship that will outlast their stint on the committee!
When her sister died, organized, list-loving Michelle Hamilton took her then eight-year-old nephew, Brandon, into her home. Five years later, Brandon is firmly center in her heart and her life. Then he starts asking about his father. Michelle's sister never told her who Brandon's father was, and knowing the type of men her sister gravitated to, Michelle suspects both she and Brandon are better off not knowing. She promises to help him find his father when he's eighteen. But Brandon's not willing to wait, and starts searching on his own.

Daniel McLean opens the door shortly after Thanksgiving and finds a boy on his porch who asks, "Could you be my father?" While Brandon's thrilled that the timing is right and Daniel could be his father, Michelle is not. After consulting a lawyer, she agrees to a paternity test. Neither Brandon or Daniel are willing to wait for the test results–they want to get to know each other right now.

Her PTA mom friends suggest that Daniel can spend time with Brandon by helping get ready for the big Christmas Fair that Michelle is organizing. As they work together at Erie Elementary, all three come to realize that a paternity test won't make them a family...but the love that Michelle and Daniel discover just might.
All three books + a new short story


Reviews:
"Once again Jacobs satisfies with a smooth story about a woman who wears more hats than simply "mother" or "girlfriend." Her characters, especially Michelle, shine with a depth that makes them seem more like neighbors than fictional characters." ~Romantic Times BookClub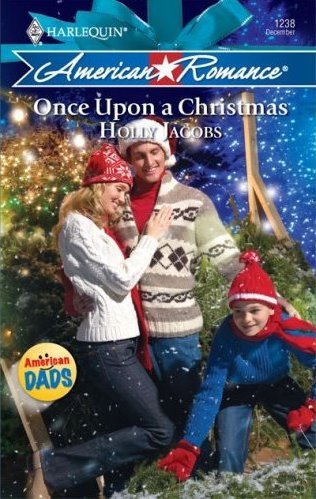 , 4 star
"Holly Jacobs keeps this engaging Erie Elementary PTA (see ONCE UPON A THANKSGIVING) contemporary romance fresh through three strong protagonists coming together as a family who supersede the often used plot of finding a biological parent. The story line is driven by the changing relationships especially between the adults as each starts off wary and cynical but slowly observe how good the other is with Brendan before knowing they are in love. The fully developed triangle and the support cast make for a fine ONCE UPON A CHRISTMAS tale." ~Harriet Klausner
"Award winning author Holly Jacobs continues her trilogy about three close friends finding love in ONCE UPON A CHRISTMAS. Likable characters and an intriguing plot captured me immediately. This sweet romance poses a "what would I do?" question for readers and offers a most satisfactory solution." ~CataRomance
"Once Upon a Christmas I read a very charming story and fell in love with the characters, and all of their delightful little ways." ~Writers Unlimited
"It took a Thanksgiving pageant to bring about a romance in Once Upon a Thanksgiving. When Michelle, Daniel, and Brandon spend time working on the Christmas fair, they find they treasure the friendship they share. Once Upon a Christmas might bring about the fairy tale ending three people deserve." ~Lesa Holstine

"Once again, Holly Jacobs has written a wonderful heartwarming story with plenty of humor to spare, about families, friends, and romance and the unbreakable bonds between them all." ~© Kelley A. Hartsell, December 2008. All rights reserved.
"I enjoy reading about unconditional love especially when children are involved. Holly Jacobs brings genuine warmth and devotion through her characters and makes you want to be invited into their lives and watch them grow together as a family." ~Dina @ Publisher's Weekly Beyond Her Book

Once Upon a Christmas
Copyrighted 2008
Holly Jacobs

Prologue
SEPTEMBER

Michelle Hamilton practically crawled out of the bathroom and flopped onto the bed.

Normally, snuggling in her newly decorated room–under the duvet that matched the curtains, which coordinated with the half a dozen throw pillows–gave her a sense of comfort and accomplishment.

This morning, she barely noticed the loveliness because she was so lost in her misery.

Michelle Hamilton was not someone laid low by illness. Any illness. She couldn't remember the last time she was sick, and she hated the feeling of helplessness.

Another wave of nauseousness made her forget railing against her illness–it made her forget practically everything as she simply concentrated on calming her more than queasy stomach.

"Aunt Shell, are you driving me to school?" Brandon called through her closed bedroom door.

Drive?

Her stomach did another somersault. Lying on the bed rather than the bathroom floor was almost too iffy for her fragile digestive tract to manage.

"Could you call Mrs. Ericson and ask if you can have a ride?"

She tried to infuse something akin to life into her voice.
Her bedroom door opened slowly and timidly, Brandon looked in.

In spite of her current illness, Michelle couldn't help but revel in the wonderment that this tall, gangly, rusty-haired boy on the verge of manhood was her nephew.

"You're sick?" he asked, concern in his expression.

She didn't try to answer, just nodded her head, which might have been a mistake. She put a hand on her stomach, as if she could hold the queasiness back.

"I could stay home with you," he offered.

She didn't risk shaking her head. Instead, she said, "No. I'm never sick, so I'm sure I'll be over this and feeling human before you get home from school."

Brandon didn't look completely convinced. "Okay, but I'll leave my cell on vibrate. Call if you need me."

She knew having a cellphone on was against school policy, but he was such a sweetheart, she didn't even argue it. Despite another violent wave of nauseousness, she smiled.
"Thanks, honey, I will."

He'd no sooner shut the door than the phone on her bedside stand rang. Out of a Pavlovish sort of need to respond to a stimuli, she automatically reached over to her nightstand and picked it up.

"Hello." Her voice sounded more like a croak than a proper salutation.

"Gee, Michelle, you sound horrible. You missed the PTA meeting last night because you were sick then? I mean, that never even occurred to me, since you're never sick."

"Heidi?" she asked, pretty sure she recognized her friend's voice.

"Yes. Listen, had I known you were sick and not just skipping, I'd have protected you. But..." The permanently perky PTA president hesitated. "Well, you know what happens when you miss a meeting, and the committee really needed volunteers, so when your name was suggested, I didn't step in--"

"What committee did they nominate me...?" she interrupted herself with a groan. It was more a groan of pain from the illness than pain from working on a committee. She tried to be as active as possible in the school's activities. Brandon was in seventh grade. After next year, he'd be onto high school. She wanted to savor and remember every minute of his last years of childhood. So, ultimately didn't matter what committee she was on. Even if she'd made the meeting, she'd have probably volunteered for it.

"You're on the--" Heidi started.

The wave of nauseousness intensified into a tsunami and Michelle eased herself off the bed and hurried to the bathroom.

"Just send me the stuff, Heidi," she said and simply dropped the phone as she sprinted the last few steps to the master bathroom.

Within seconds she forgot all about Heidi's call.