WLVH: Where Love is Found and Lasts Forever!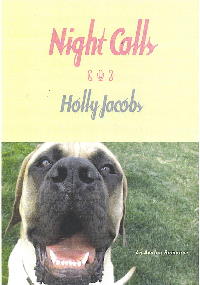 Night Calls
by Holly Jacobs

Avalon Books
ISBN: 0-8034-9764-4
April 2006

A CataRomance Reviewers' Choice Award Winner
Gayle Wilson Award of Excellence Finalist
Colorado Award of Excellence Finalist
Welcome back to WLVH Lovehandles, where love is more than just a song. Cassie Grant's night time radio program, Night Calls, centers around the belief that true love exists, that it matters. Unfortunately, Cassie's own love life disappears when she breaks off her engagement. So she does the only thing she can do–she declares herself a spinster and buys...a dog (she's allergic to cats). A big dog, because it's going to take something pretty big to make her forget that she can find love for everyone but herself.
Jonathan Cooper is a lawyer who learned long ago that happily-ever-afters are fairy tales. He and Cassie have become friends since he moved next door. But every single man knows that while you can be friends with an engaged woman...there's no way it will work with a single one. Especially a crazy one who just bought a dog that looks more like a small pony than an Old English Mastiff.
Can a woman who's given up on fairytale endings and a man who's never believed in them find a happily-ever-after of their own?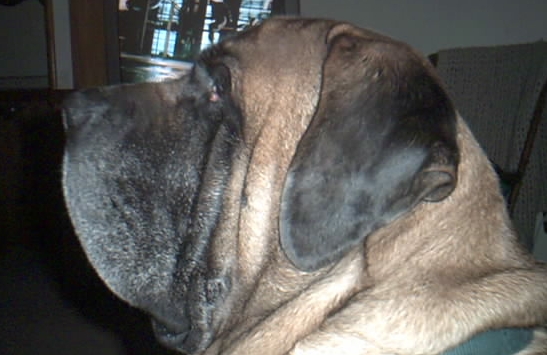 In Night Calls, you'll meet Dudley, the heroine's Old English Mastiff. He's based on our dog of ten years, Winston (shown at the left). Winston passed away in January '06. He was a very special. Being an inspiration for a book seems a fitting epitaph for a dog whose heart was every bit as big as he was.
"...(a) cheery and amusing contemporary romance." —Maria Hatton, Booklist, April 1, 2006
"Funny, charming, and sweet, this romance is the third in Jacob's "WLVH Radio Romance" series and is perfect for those who enjoy gentle, playful reads." — Library Journal, April 15, 2006
"Holly Jacobs delights again with this witty and heartwarming story." ~Cat Cody, Romance Junkies
"Holly Jacobs' trademark humor is evident on every page and sure to please readers." Kelley Hartsell, Kwips and Kritiques
"Holly Jacobs provides a fun winner that will send her audience seeking other Erie WLVH tales (see LOVEHANDLES and PICKUP LINES)." ~Harriet Klausner
"...love, laughs and a lot of fun." ~Crystal Fulcher, Cataromance.com Reviewer
"...another delightful romp." ~Lydia Funneman, Writers Unlimited Reviewer
COPYRIGHT 2006
Prologue
"Erie, Pennsylvania is a little city with a big heart. And the heart is what Night Calls is all about. Come join us here at WLVH for the next four hours. We'll be listening to love songs as we talk about love--about how to find it, about how to save it, about how to treasure it.
"I'm Cassiopeia Grant here on WLVH's Night Calls–-where love is more than just a song. I'm waiting to hear from you, Erie."
Celine Dion's Titanic theme filled the airwaves.
When it ended, listeners heard Cassie say, "Hi, this is Cassie and you've reached Night Calls here on WLVH, where love is more than just a song."
"Hi, Cassie. This is Patty. I listen to Night Calls every night."
"Thanks, Patty. We at WLVH appreciate our loyal listeners. So, what do you want to talk about tonight? A man who's done you wrong, or one that's oh-so right?"
"Neither. I just wanted to wish you the best with your upcoming marriage."
"Thank you. Like we say here at Night Calls, love is just a heartbeat away. In my case, it's just a weekend away. I can't tell you how excited I am. Gene and I will be the third generation from my family to elope. I only hope our marriage is as happy as my parent's and grandparent's."
"I'm sure it will be. Sometimes I worry that I'll never find that kind of love. All the men I date are losers."
"Listeners at Night Calls know that I've dated my share of Mr. Wrongs. But you have to believe that the right man for you is waiting out there. You just haven't found him yet. You can't give up. There are a lot of fish in Lake Erie...one's bound to be right for you."
"There are too many fish...too many choices. It's not as if the perfect man is living next door."
"Maybe, maybe not. The idea is to leave yourself open to the possibility. With love anything is possible. I hope you'll come out to our Night Calls Second Annual Splash Bash. Who knows...maybe Mr. Right will be there waiting. Let's let Cher tell us just how to know if we've found the right man."
Cassie cued the CD and Cher began to tell her audience how to tell if a man loved a woman...with a kiss.
Cassiopeia Grant leaned back in her chair and smiled.
Life was perfect.
Chapter One
Perfect, Cassiopeia Grant thought as her neighbor, Jonathan Cooper stepped over the small hedge that separated their homes.
"Mrs. Gifford," he said with a smile. "Let me be the first to congratulate you."
Coop might say the word congratulations, but Cassie knew he didn't mean it. He was pretty vocal about his opinion of marriage.
And she knew what he was going to say when she told him what happened.
What did I tell you? Love is just mythical rationalization for forming a partnership, or having sex. Either one is preferable minus the sugar-coating.
"Mrs. Gifford," he repeated, the smile faded and he looked concerned. "You're home."
"Yes, I'm home. One might expect a more profound statement from you. After all, anyone could see I'm home. Here I am, standing with my suitcase in my driveway so of course I'm home. Stating the obvious isn't normally your forte. Has anyone ever told you that you aren't the brightest bulb in the socket?"
"I mean," he started with the slightly exasperated tone so many people used with her, "aren't you supposed to be tucked in some romantic honeymoon suite right now?"
A small sniffle tickled her nose.
Cassie ignored it.
She wasn't going to cry again. She was done crying.
Grandma Rose used to say it was no use crying over spilled milk and she'd probably add, or nonexistent weddings.
No, Cassie was all done crying. Just because she was the first person in three generations of Grants to almost sellout and marry for less than true-and-everlasting love, just because she'd almost made the biggest mistake of her life, just because she didn't get her walk down the aisle, that didn't mean she had to cry about it. It was over.
Over.
Like all her hopes for a marriage like her parents had were over. A marriage like her grandparents had had. Like all her aunts, uncles and cousins had.
No, she wasn't going to cry just because her life was hopeless and loveless. She'd decided on the trip home that she was going to be a career woman. Yes, she was going dedicate herself to her job and forget about finding true love.
And she wasn't going to stand here and sniffle because she was the lone Grant who couldn't find a happily-ever-after. She was starting a new family tradition. Independence.
"Cassie?"
She opened her purse, searching for her keys to her small house.
"Your honeymoon?" Cooper prompted.
Trying to sound dignified rather than on the verge of tears-she-wasn't-going-to-shed, Cassie said, "It would be hard to have a honeymoon when there wasn't a wedding. I'm old fashioned that way. You see, I'm not Mrs. Gifford, or Mrs. Anything-else. I'm still just plain old Cassiopeia Grant..."
From the book:
Night Calls
By:
Holly Jacobs
Publication Date:
4/06
ISBN:
ISBN: 0-8034-9764-4
Copyright ©
2006, Holly Jacobs
Published By:
Bouregy, Thomas & Company, Incorporated