My A Valley Ridge trilogy (A Valley Ridge Wedding: You Are Invited..., A Valley Ridge Wedding: April Showers and A Valley Ridge Wedding: A Walk Down the Aisle) and tied in A Valley Ridge Christmas!!
The hero of the third book owns a vineyard and a small winery. In the interest of setting the tone, I went and toured Lake Erie Wine Country. Yes, it was hard, arduous research...but somebody had to do it, right?
I can almost hear you now... What? Lake Erie has a wine region? The answer to that is a resounding, yes! It just so happens we're on the same latitude line as some of the finest wine growing regions of France. And we have Lake Erie to stabalize the temperature. The new trilogy is set in the fictional Valley Ridge, New York. In my head, it's set between North East, PA, and Ripley, New York...two towns that are part of the Lake Erie Wine Region. So, here's where I started my day...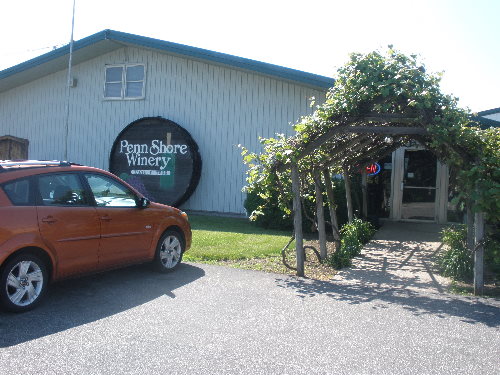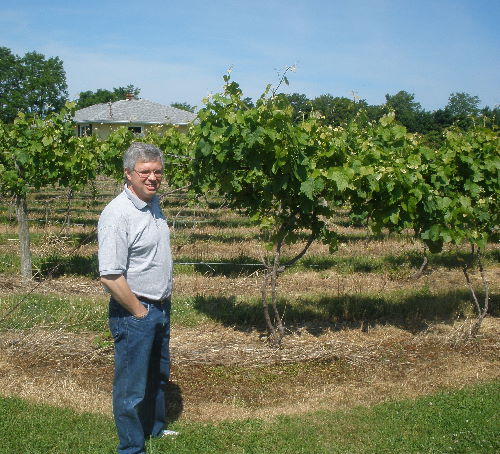 Floyd (my orange Vibe) and I started our research at Penn Shore Winery. Not that I wanted to play favorites...all the wineries in the area are great. It's just this one has the small, personal touch that I visualized for my setting.
Jeff Ore, the owner, offered to show me around. He pretty much runs the show with the help of his wife, and some summer help. Here he is at his vineyard...an acre and a half of Noiret grapes.
In the bitter Erie winters, those vines need pruned. This time of year, he keeps the small suckers from growing at the base of the vines...he wants all the plants energy going into the grapes. Around about September or October, it's time to harvest the grapes.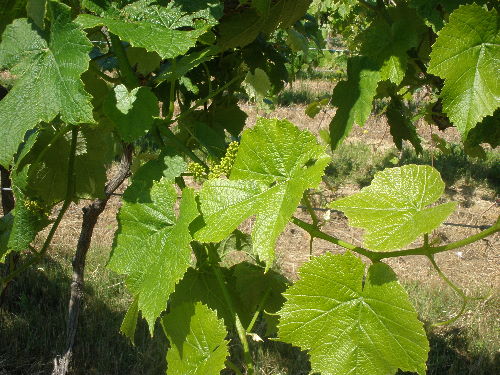 Noiret Grape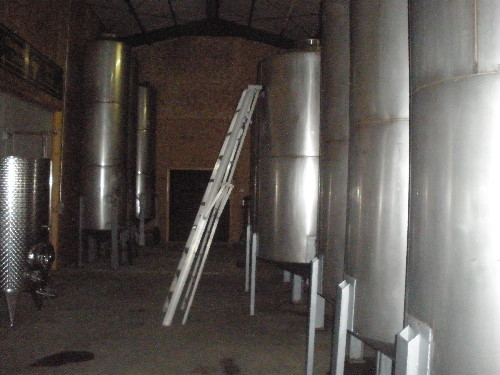 Here are some of the stainless steel containers where the grape juice and yeast ferment.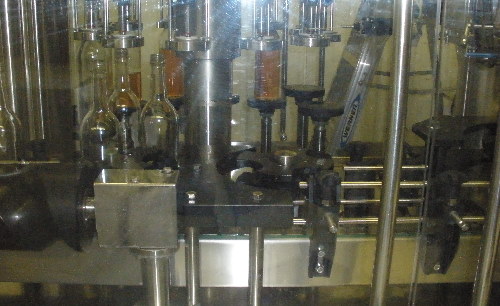 Sorry about the glare on this, but Jeff ran some wine through the bottler for me to see. This one machine not only puts the wine in the bottle, but also puts on either a screw on cap or a cork. The dry reds do better with corks, the sweeter wines and whites benefit from being hermetically sealed in a screw on cap.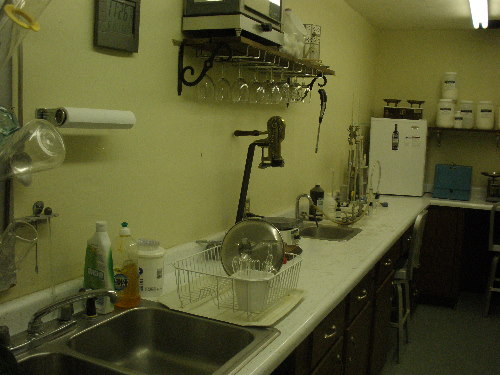 The lab.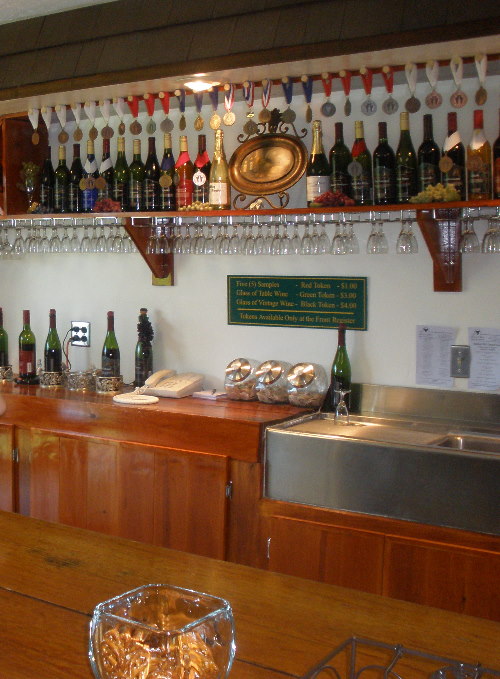 Penn Shores tasting bar. I'll confess, I had to try some wine...it was research after all! LOL I made sure I tried the Noiret since I'd 'met' the vines!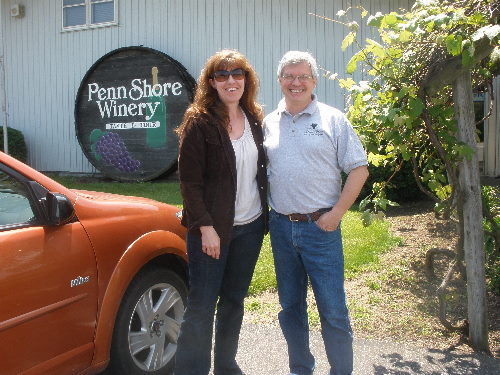 Me and Jeff.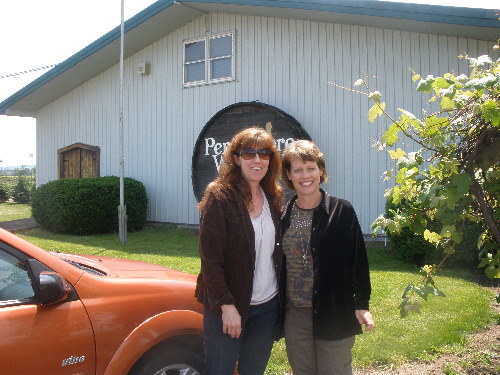 This is me with Julie Pfadt. She works for the Lake Erie Wine Country organization. The website has info all the wineries in the area. It's a helpful way to get a taste for what the area has to offer. An even better way to get a taste is to...get a taste! LOL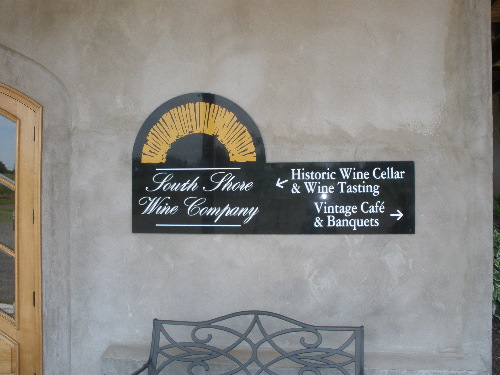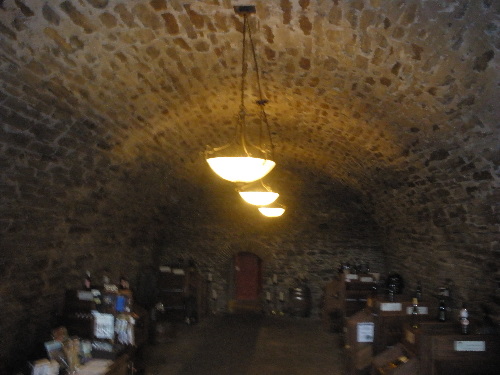 After Penn Shore, it was time for lunch on the deck at South Shore Wine Company. What a beautiful view, and there was a great lake breeze. And look at the stonework in the wine cellar!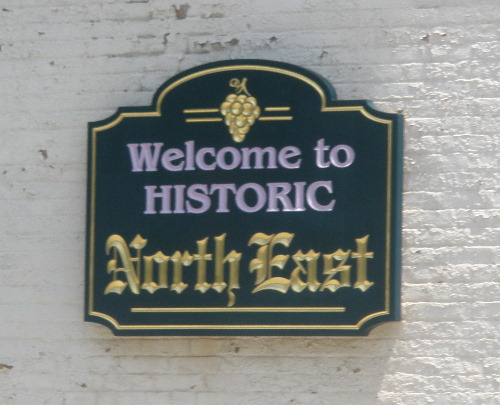 When I finished lunch, I went into downtown North East. From Erie (where most of my books are set), North East is about a twenty minute ride east, and another five minutes to get to the border of New York. Ripley, NY is another few minutes into New York. Now, I realize this doesn't leave a lot of room for my fictional town of Valley Ridge, NY. So, we're going to pretend, Ripley's a bit farther from North East...okay? Valley Ridge sits neatly in between the two towns and has the feel that you'll find in North East. (I set one other book in North East, Here With Me.)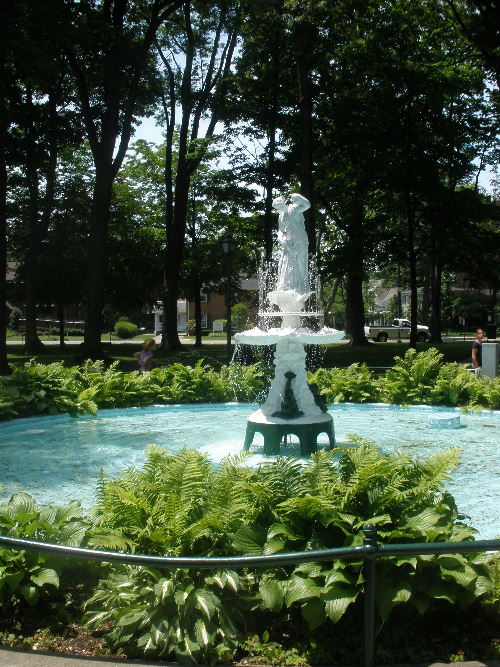 Here's Gibson Park, in the center of town.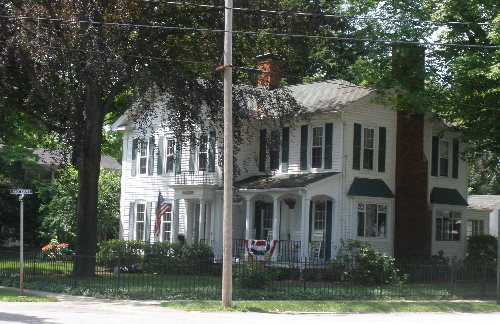 As I start to write Valley Ridge, this is the kind of house I envision for the local bed and breakfast that is in the first book.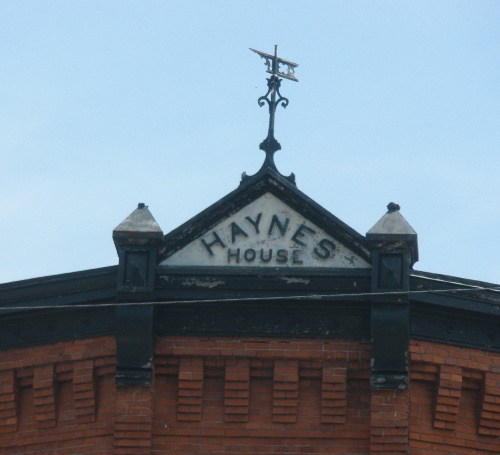 These next few are just some of the beautiful buildings that house a lot of the local businesses.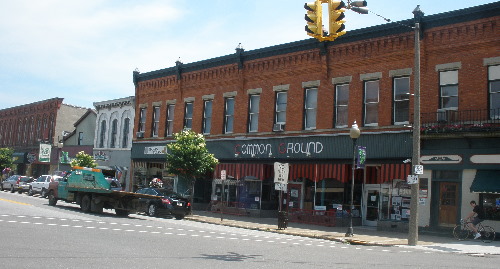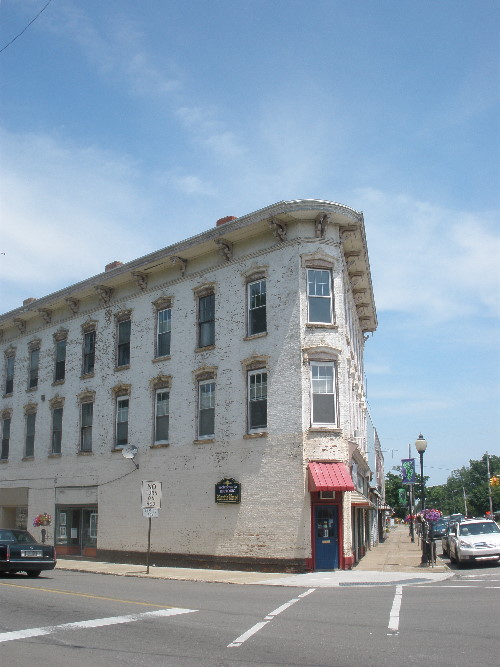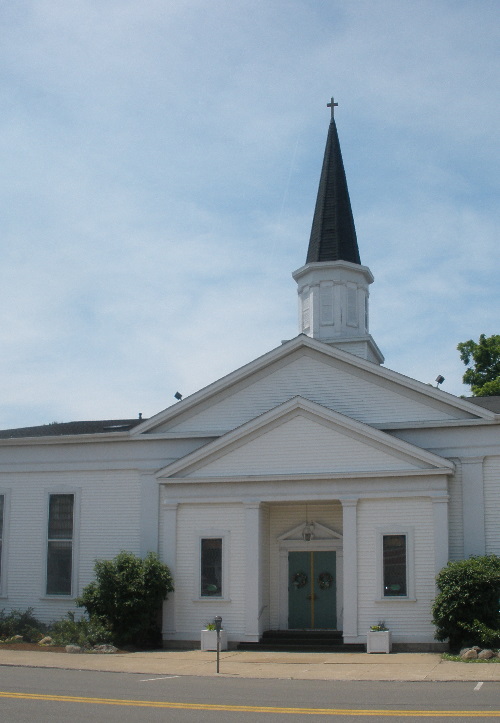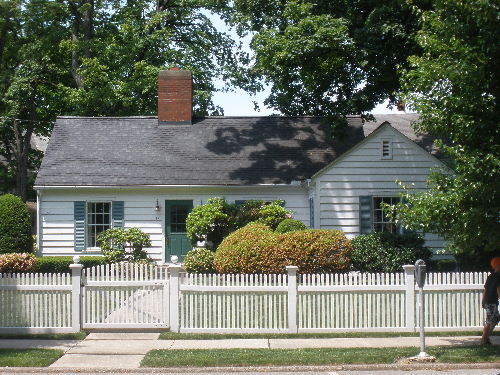 And here's the kind of house my heroine in the first book might live in with the three kids she's taking care of.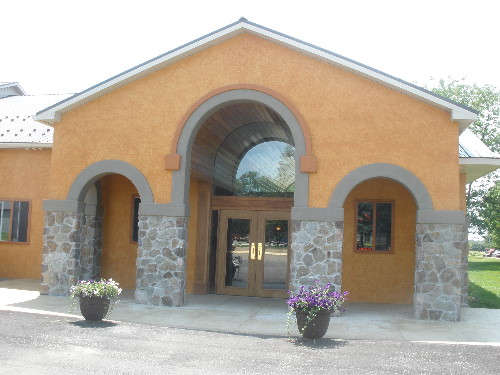 I left North East and headed back to Erie. I stopped at one of the area's newest wineries, Courtyard Wineries. Beautiful, isn't it?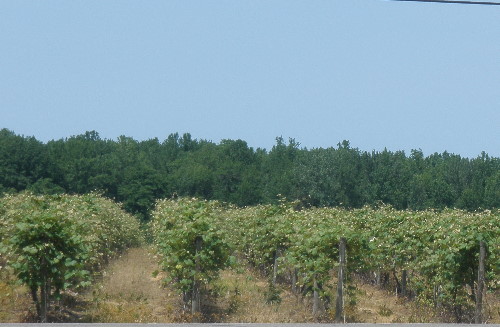 Here's the vineyard across the street.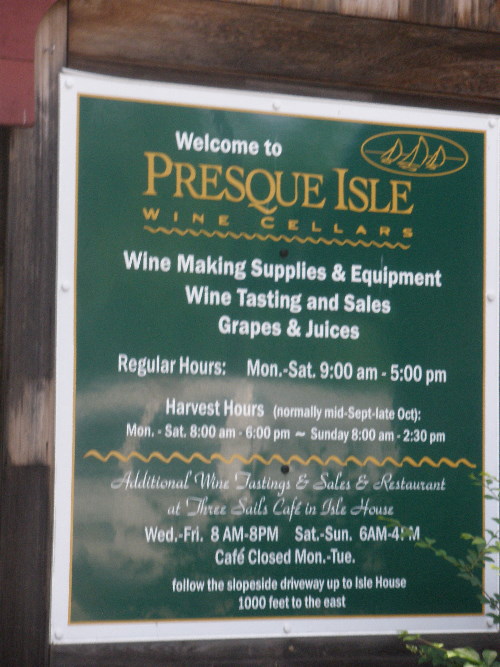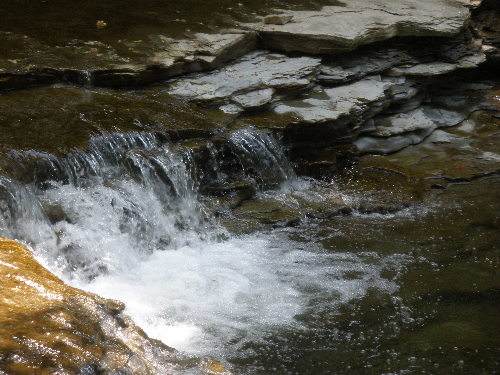 My final stop was Presque Isle Wine Cellar. They've got a beautiful little creek next to the building.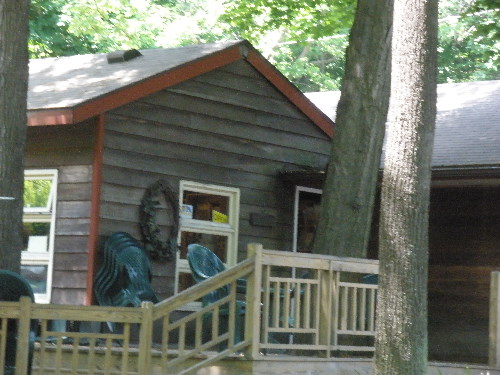 This winery is very picturesque!
It was a long day, and I've got a year or so of book writing ahead of me. I imagine I'll have to do more research. Yes, I suffer for my art! LOL I'll post more pictures as I go along. I'd like to be able to show you some of the other wineries! Of course, you can check out the Lake Erie Wine Country page until then.
Now, after a long day of arduous research, guess what I did? This is the Noiret wine that Jeff made from the grapes in his vineyard...and let me just say it was awesome!