WLVH: Where Love is Found and Lasts Forever!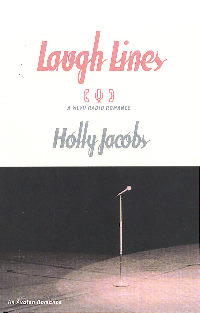 LAUGH LINES
by Holly Jacobs
ISBN 0-8034-9814-4
Avalon Books, 2/07
Welcome back to Erie, PA! In LAUGH LINES, the disc jockeys from WLVH radio station are MCing at a local comedy club, Chuckles. And they prove that WLVH, where love is more than just a song, still has the magic touch...it follows them into the club and...
Dani Sinclair has moved home to Erie to be closer to her family and to tackle a new job as CEO at a Hamlin Texts. That first day, while trying to escape a killer-bug (running from a plain bug sounds stupid, but if you say killer-bug it makes sense) she literally bumps into Luke Miller, the owner of Chuckles, a comedy club. At Chuckles, Dani finds she's got a talent for stand-up...and she's standing a lot, except when she falls for Luke! Unfortunately their road to love is peppered with a few rotten tomatoes and prat falls, but like all true comics (and romantics) they keep trying until they get it right!
A local comedy club, Jr's Last Laugh, really helped me out on this one. If you're in Erie, make sure you give them a try (tell them I said hi!)!
And my friend, disc jockey, Craig Warvel, has been help with all four WLVH books. You can hear him mornings here in Erie on Star 104!
Dani Sinclair is the new CEO of a textbook-publishing company, but she'd rather be an actress or a stand-up comic. So when she literally knocks Luke Miller down and then discovers that he owns a comedy club in Erie, Pennsylvania, her hometown, to which she has just returned, he appeals to her on several levels. Luke, however, blows hot and cold. Readers into Jacobs' WLVH romantic comedies (Night Calls, 2006; Lovehandles, 2005) will enjoy this one.... —Booklist
"Holly Jacobs gets better and better with each new book." ~Robert H. Goss, Roundtable Reviews
"The fourth WLVH Radio Romance" (see NIGHT CALLS, LOVE HANDLES and PICKUP LINES) is a fun lighthearted romp starring two likable protagonists. The humorous novel hooks the audience early when Dani fleeing from the terrorist bug that almost decapitates Luke. Her story to him of her escapade to escape an enemy combatant that sized her up as lunch sets the tone of an amusing contemporary romance that never misses a laugh..." Harriet Klausner.
"Holly Jacobs has a gift for penning hilarious stories, where the characters often find themselves in some humorous situations. Though packed with much amusement, there is also plenty of emotion throughout the story. ...With the author's special trademark of humor all through the story, LAUGH LINES is a wonderfully witty book." ~ Amelia, CataRomance
"Laugh Lines will give you Laugh Lines. I was laughing all the time. Whether it be from Dani's parents crashing their date to Dani's brother trying to set her up on a date and her re-gifting the date. Re-gifting the date? You don't know what that is well you will have to get a copy of Laugh Lines and find your way into the wonderfully funny world of Holly Jacob's." ~ Lydia Funneman, Writers Unlimited Reviewer
The title of this book, Laugh Lines, is quite appropriate both for the story and the talent of Holly Jacobs. I knew it was going to be funny when much of the book takes place at a comedy club and the heroine is the new up-and-coming local talent. Add in the fact that Holly Jacobs is known for writing sweet funny stories that make me laugh out loud and tug at the heartstrings and I found a thoroughly enjoyable reading experience that made me able to escape my own worries for a while… even if certain scenes did make me burst into laughter at some rather inopportune moments. © Kelley A. Hartsell, May 2007. All rights reserved.
EXCERPT Laugh Lines
by Holly Jacobs
Avalon Books
ISBN# 0-8034-9814-4
02/07
Chapter One
How to be a Knock-Out
It was watching her.

Danielle Sinclair couldn't see its tiny eyes, but she was sure they were focused on her, waiting for her to slip from her precarious perch.

A mutant bug with a thousand legs and a voracious appetite for women.

No, not women.

For a woman.

Specifically, that killer-bug wanted to eat her for breakfast.

Dani could tell that it was a highly intelligent bug.

It knew eventually she'd have to climb off the toilet seat and make a break for the door. It was willing to wait because it wanted a piece of her.

She could see the headlines. They could even play off the fact it was May first. May Day, May Day--Woman-Eating Killer-Bug Corners New CEO of Hamlin Texts in Gas Station Restroom.

Being a CEO meant making tough decisions--though she hadn't officially started her new job, she knew that much. It looked like her first official decision would be, stay on the toilet and wait for someone to rescue her, or rescue herself.
Dani wasn't overly fond of being rescued--she liked to think of herself as an independent woman. She'd started college at seventeen, completed her four year education in three years. Since then she'd worked hard to climb the corporate ladder and make a name for herself.

Yes, she was an independent woman who'd never needed to be saved by anyone and she wasn't going to start now.
Summoning courage she hadn't realized she possessed and praying that her sensible heels were also strong ones, she jumped off the toilet lid and onto the killer-bug.

Crunch.

Ugh.

Shivers of disgust crept up and down her spine as she threw open the bathroom door, needing to get away from her well-flattened victim.

Thud.

The door connected with something other than the wall behind it. Something a bit softer than a wall if she'd interpreted the thud correctly.

She was pretty sure it wasn't another killer-bug.

Darn.

Could this day get any worse?

Dani didn't want to find out. This was enough worse for one day.

Because she was a woman who was good at multi-tasking, she scraped the bug guts off her shoe even as she pulled back the door and revealed that indeed it wasn't another giant killer-bug, but rather a man pressed between the door and the gas station wall.

"I'm so sorry," she gushed.

Dani wasn't normally prone to gushing, but she figured slamming an innocent bystander between a wall and a door warranted more than a normal apology.

The man gave himself a small shake as he stepped away from the wall. "No problem. I caught the door with my hand rather than my face, so you didn't break my nose or anything."

She was thankful--not only because she hated the thought of injuring someone who was simply in the wrong place at the wrong time, but because breaking that particular nose would have been a crime. It sat squarely in the middle of an handsome face.

No, not just handsome.

It was a face saved from being beautiful by a very masculine, heavy bone structure. So, she'd just settle for calling him gorgeous, but the word didn't seem to describe him adequately.

He had dark brown hair that bordered on black. Oh, if she published romance novels instead of educational texts, she'd say something like, he had sable hair and piercing blue eyes. No. Not blue. Azure. Yeah, that sounded nice. Sable hair and azure eyes.

But since Hamlin published educational texts, she preferred clear and accurate descriptions--gorgeous, dark hair and blue eyes.

Gorgeous was an accurate and necessary to her description.
She realized she was standing and staring at him, so she averted her eyes and let go of the door. It thudded back into its frame.

"Are you sure you're okay?" she asked.

"Yeah. What was the hurry?" He did a head-to-toe appraisal of her.

If she hadn't just done the same thing to him, she might be insulted, but she had, so she ignored his assessment and answered his question. "A bug."

His eyes snapped back to her face. "A bug?"

Dani could kick herself for admitting a bug had prompted her hasty exit, but kicking herself in her bug-gutted shoes wasn't an option. She was going to blame the uncharacteristic admission on the stress of her first day at a new job and the bug.

She tried to make it seem less...girly by adding, "Not just any bug. No, this was a monster bug. A mutant bug. A killer-bug, even. It wanted me for lunch."
From the book:
Laugh Lines
By:
Holly Jacobs
Publication Date:
2/07
ISBN:
ISBN: 0-8034-9814-4
Copyright ©
2007, Holly Jacobs
Published By:
Bouregy, Thomas & Company, Incorporated