(Copyright 2002 Harlequin Enterprises Limited® and ™ are trademarks of the publisher)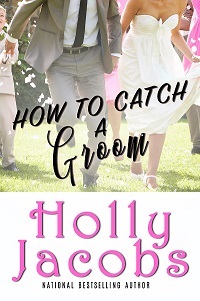 How To Catch a Groom
by Holly Jacobs

Harlequin Duets,#84,
ISBN #0-373-44150-9, 09/02

Madcap Award Winner!!

---
How to Catch a Groom:

1. Find a man who is your complete opposite.
2. Help save him from utter embarrassment.
3. Call in a favor and ask him to help you out of a wedding emergency.
4. Try not to fall in love with a man who values logic more than love.

Wedding planner, Desdemona Smith, follows her heart. College professor and researcher, Seth Rutherford, is a man who loves logic.

When Seth loses his bride--a woman who was perfectly suited to him--he's confused. It doesn't make sense. Desi assures him love isn't logical and Seth soon discovers neither is Desi. Then why is he attracted to a woman who is his opposite? Why can't he seem to get enough of Desi Smith? Can these two opposites make the perfect romance?.
---
Funny and charming, Holly Jacobs's HOW TO CATCH A GROOM (4) beautifully captures the fear and elation of falling in love. Her heroine is easy to relate to, and her slightly nerdy hero is adorable."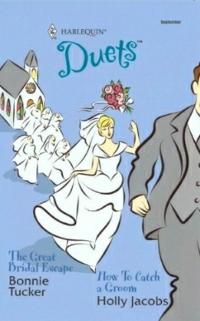 ~Catherine Witmer, Romantic Times Magazine

"Holly Jacobs gives us a non-stereotypical hero. Readers can't help but fall for in her slightly nerdy scientist Seth Rutherford, whose logical, practical brain nearly leads him down the aisle with the wrong woman in HOW TO CATCH A GROOM." ~WISH Award (Women in Search of Heroes) section of the Sept issue of Romantic Times


"She makes you laugh and cry..." ~Helen Slifer, Writers Unlimited

"Logic and emotion both have a place in life... and love. Ms. Jacobs' story proves that, and it is a delightful one. She is a wonderfully talented author who is making her mark in romance. Why not try a few others of her books as well? " ~Kelley A. Hartsell, Loves Romance--4.5
"Outrageous and witty, HOW TO CATCH A GROOM is a delightful story of two people brought together in the most unexpected way. A great read, lots of fun, and wonderfully written, I highly recommend it!" ~Escape to Romance Reviewer Erin B.-- 4.5 roses
It's a leave-you-feeling-good kind of story.
~Carol Carter, Reviewer
"In the end our hero and heroine get together, but Holly Jacob's makes them earn every sentence and scene to get there. Yes, this story made me laugh and it held my interest as all of Holly's books do. How to Catch a Groom proved to be a story of love and pure comical entertainment." ~Jody Gore, Women on Writing
"What a fun book! Escape the ordinary and Catch this pair of funny and charming love stories!"
~Marianne Stillings, All About Romance

---
So, are you asking yourselves just How do you Catch a Groom????
Well you...
1. Take one jilted scientist who thinks marriage should be logical.
2. Add one wedding planner who believes in fairytale love.
3. Stir until logic and love are as thoroughly mixed up as the couple.
4. Stand back and watch what happens next in...
HOW TO CATCH A GROOM
copyright Holly Jacobs

Prologue
"Size matters. Size always matters." Mrs. O'Malley, the mother of the bride-to-be, gave a little humph for emphasis. "And my daughter won't put up with something inferior."
"Ma'am, I've seen it myself, and it's big enough. Plenty big," Desi Smith soothed.
Soothing was part of her job as the wedding coordinator, but she feared it would take a double-strength shot of a strong sedative to truly soothe this woman.
"Seth, there you are," Mrs. O'Malley cried, looking past Desi to the blond groom-to-be. "Help me out here, will you?"
"Sure, if I can, ma'am."
"Mom. I've told you, call me Mom. Not that I look old enough to be your mother," she hastily added, patting her perfectly coifed brunette hair. "Now, I want you to tell this girl that size does matter. It matters a lot. Mary Kathryn needs it big. If it's too small she'll be disappointed. And I don't want her disappointed by something that is inferior."
Seth Rutherford eyes widened and he cleared his throat before he replied slowly, "Uh...just what are we talking about here?"
Desi tried not to smile as she realized how their conversation might be misconstrued. "We're talking about the wedding cake. Mrs. O'Malley is afraid it's not big enough for all the guests. I've been reassuring her that it is."
"Oh, the cake." Seth looked relieved.
"Well, I'm going to go find Mary Kathryn. I think you're both wrong and she'll be disappointed tomorrow." Mrs. O'Malley made her way to the opposite end of The Bayside's banquet room. Mrs. O'Malley had insisted on only the very best for her daughter's rehearsal dinner, and Bayside was the best Erie, Pennsylvania had to offer.
Desi was sure she hadn't heard the end of the cake issue, but was grateful for the reprieve.
"Do I know you?" Seth asked unexpectedly.
"Pardon?" Desi asked.
"I said, do I know you? You look familiar, but I haven't been able to place where I might know you from."
Desi smiled. "I was wondering if you'd remember..."
From the book:
How to Catch a Groom
By:
Holly Jacobs
Imprint and Series:
Harlequin Duets
Publication Date:
9/02
ISBN:
ISBN 0-373-44150-9
Copyright ©
2002
By:
Harlequin Enterprises
® and ™ are trademarks of the publisher.
The edition published by arrangement with Harlequin Books S.A.
For more romance information surf to: http://www.eHarlequin.com