DASHING THROUGH THE MALL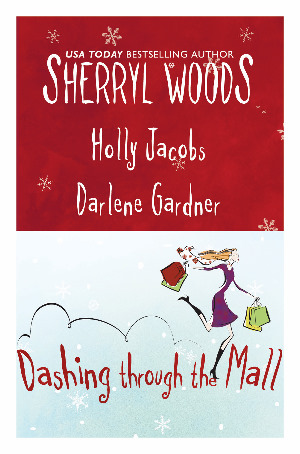 Harlequin Anthology, 11/06
Deck The Halls, by Holly Jacobs
(w/ Sherryl Woods and Darlene Gardner)
ISBN #0-373-83733-X
UK Mills Boon Single Title reprint:
CHRISTMAS EVE KISSES
Mills Boon Single Title, 12/08
ISBN-13: 978-0263869002
And my novella, Deck The Halls is paired with Margaret McDanagh's An Italian Affair in Australia in December!
Thorndike, Large Print, hardback version, 10/07
Ed Hall has rules for just about every circumstance. For instance there's Number Ten, Tied-together bathrobe belts do not make sturdy rope and should not be used for rapelling, no matter what your brothers tell you. Yes, he can plot and plan for just about any circumstance his three boys bring his way...except shopping at King's Mall on Christmas Eve with Joy O'Connell. She's not what he expected, and he doesn't quite know what to make of the store manager who's feeling as bum-humbuggish about the holidays as he is.
Joy's first holiday as store manager is testing her abilities and her sanity. A third of her staff is out with the flu, which is how she finds herself shopping with the Hall family. Three teens and their dad. Her already rock-bottom holiday spirit takes a nosedive. But even when she's tempted to Deck the Halls, there's something between herself and Ed. Something that leaves her wondering if Santa left her a present just a little bit early!
Kobo
BAM
Google Play
Barnes and Noble
Sherryl Woods'"Santa, Baby"
When a single mom loses track of her son in the mad crush of last-minute Christmas eve shoppers at the mall, the last person she expects to help her find him is a disgruntled detective who's filling in for Santa. But Nick -- who's definitely no saint -- has a whole lot of reasons for approaching the holiday and this Santa gig with a bah-humbug attitude. It'll take a lot to bring these two some much-needed holiday cheer. Then, again, this is the season for miracles.
Darlene Gardner's"Assignment Humbug"
News reporter Merry Delaney plans to portray Christmas Eve as the shopping day from hell for her television viewers. Little does she know that her ex-fiance Patrick MacFarland, who's filling in for her regular cameraman, is scouring the mall for the perfect present to convey how much he still loves her. With the spirit of the season breaking out all around, can Patrick convince Merry that the mall is a magical place after all?
"Holly Jacobs writes an all-too-familiar story about shopping with children, but makes it pure magic. Her descriptions of shopping with three boys will have you shaking your head in agreement even as you howl with laughter. If the ba humbugs have you down, DECK THE HALLS and you'll be right back in the spirit again." ~ Cat Cody, Romance Junkies
"...three fun, cute lighthearted Christmas romance tales that start off with a bah humbug, but soon turn to joy to the world." ~Harriet Klausner
" ...enjoy these tales of the Christmas holidays." ~Helen Slifer, Writers Unlimited

"DASHING THROUGH THE MALL is the just the book to get one in the holiday spirit with its joyful stories and realistic characters.
"Deck the Halls" has just the right combination of humor and heartfelt emotions between its engaging characters to create a fun holiday story." ~cataRomance.com
"Dashing Through the Mall is a delightful way to pass the time this holiday season." ~Kelley Hartsell, CK2s Kwips and Kritiques.com
Note from author: As most of you know, I'm the mother of four. And over the years, I've learned that kids don't do subtle. If I want them to know something, I'm very straightforward about it. I tell them as plainly as possible. Ed Hall, in Deck the Halls, learned the same lesson. And in the novella, he shares some of his Life Lesson Rules. I thought you'd like a chance to see the whole list. And though I won't identify which ones, I will share that more than a few of these rules were inspired by my kids' real-life exploits! ~Holly
The Hall Family's Life Lessons
1. Remember, electricity and water don't mix.
2. Please and thank you aren't swearwords...use them. Uh, and don't use actual swearwords.
3. Look both ways when crossing the street...and actually wait on the corner if a car is approaching.
4.Don't play with matches...or start fires with magnifying glasses, your mother's glasses...just don't start fires.
5. Don't EVER cut your sibling's hair...don't cut anyone's hair.
6. Change your underwear every day.
7. Shower daily as well, whether you need it or not.
8. Cats and goldfish don't mix.
9. Be smart, behave, but above all be kind.
10. Tied-together bathrobe belts do not make sturdy rope and should not be used for rapelling, no matter what your brothers tell you.
11. Punctuality is polite...and necessary to your father's sanity.
12. The house is not the proper target for mud-balls. Neither are your brothers.
13. No physical contact with your brothers. Ever. Especially in public.
14. Don't purposely try to catch your brother's flu to get out of going to school.
15. No food fights in public or at home. No fighting period. Rule number fifteen shall be especially obeyed in all public places.
16. No matter how annoyed you are, don't rinse your brother's toothbrush in the toilet.
17. No tacks in the teacher's chair, despite what you see in the movies.
18. All that is necessary when bodily noises occur is a simple excuse me.
19. No digging for gold or other treasure in the backyard (or frontyard).
20. No talking about private matters in public.
21. No using slingshots to shoot at animals...or siblings.
22. No bungy jumping from the garage...or anywhere else.
23. Don't light arrows then shoot them. Enough said.
24. If friends are doing something dangerous, either make them stop or leave and tell.
25. When having pictures taken, no spitballs, devil horns, inappropriate bodily noise (see rule 18) or general monkey business. Just smile and get it over with.
26. No Christmas carols should be played until after Thanksgiving, and no carol should ever be made into a rap.
27. Laugh at least once every day, no matter how stressful life seems.
28. When under the mistletoe, it's bad luck not to kiss.
29. If you make a mess, you clean it up.
From the book:
Dashing Through the Mall
By:
Holly Jacobs
Imprint and Series:
Harlequin
Publication Date:
12/06
ISBN:
ISBN #0-373-83733-X
Copyright ©
2006
By:
Harlequin Enterprises
® and ™ are trademarks of the publisher.
The edition published by arrangement with Harlequin Books S.A.
For more romance information surf to: http://www.eHarlequin.com