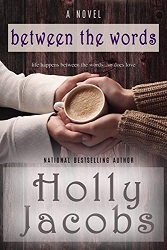 Between the Words
by Holly Jacobs
Fans of Holly Jacobs'
Words of the Heart series
will love the newest story!


Alice had the perfect life…which fell apart when her husband's pregnant mistress shows up at her door.
Olivia was leading an imperfect life until it fell together when she met her cheating boyfriend's other woman…his wife.

Two Women.

Two Romances.

Two Happily-Ever-Afters in this final installment to Holly Jacobs' bestselling Words of the Heart series.

Life happens between the words…so does love.
Holly Jacobs' Award Winning
Words of the Heart Series:
1. Carry Her Heart (Ned helps Pip recover from the loss of her daughter.)
2. These Three Words (Get a glimpse of Pip's daughter in Addie and Gray's story.)
3. Hold Her Heart (Pip's daughter finally comes home.)
4. Between the Words (Two heroines, two romances.)
Excerpt Between the Words
Copyright Holly Jacobs
No, my dreams were built of small things.
Maybe they were dreams of another era.
I dreamed of a man who would love me.
A man I could love.
I dreamed of a house filled with children.
I dreamed of a perfect life.
And I thought I'd found that perfect life of my dreams.
I married a man I loved and I thought he loved me, too. We had a son and then a daughter. We lived in a big house in a lovely neighborhood.
I reveled in that small, ordinary life.
And then on a winter Monday, in the midst of a snowstorm, someone knocked on my front door and my small, perfect life shattered.
I couldn't have known then that perfection is overrated.
I didn't understand that the biggest things in life are made up of the smallest ones. They're built of small moments that grow from other small moments until one day you look back and realize that your life isn't small in the least.
And it's certainly not perfect.
Life is imperfect. It's messy.
And that imperfection is the stuff that our dreams are made of.
If you listen between the words, watch between the moments, you'll see that life is perfectly imperfect.
And it turns out, so is love.
But I hadn't learned that on that snowy Monday as I opened my front door . . .