Welcome to Holly's Pictures
Woman's Exp, Erie, PA
October 10/11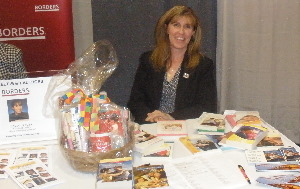 Borders very nicely invited me to be part of their exhibit at Erie's Woman's Expo...what fun! I met a lot of readers, signed a lot of books, and got to hang out with good friends.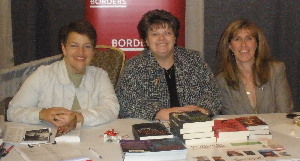 Gayle Callen, Jamie Denton and me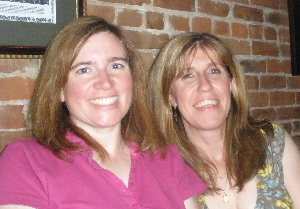 Here's Susan Gable and I after the second day at Molly Branigan's. If you're ever in Erie and going down State Street be sure to stop at this wonderful Irish Pub!


Booksigning/Discussion Group
Borders Books, Pittsburgh, PA
September 20, 2008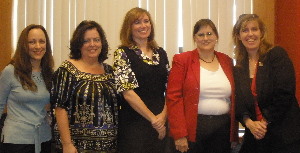 Gaelen Foley, Gwyn Cready, Susan Gable
Barb Sheridan and me!
RWA Conference in San Francisco July '08
My big news of the conference was that I received a pin from Harlequin to mark the publication of my 25th book for them, Once Upon a Thanksigiving, this October!

I'm there in the back of Harlequin's Award presentation, the floating head in the middle!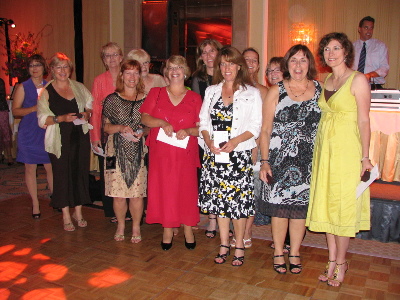 Romance Writers of America's conference was in San Francisco this year! I went a bit early so I could see some of the town.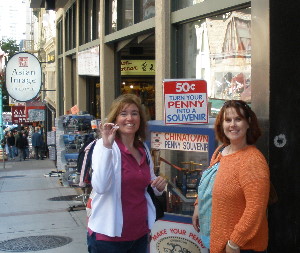 Here's Susan Gable and Jen McLean, who's been doing my amazing ads, in China Town.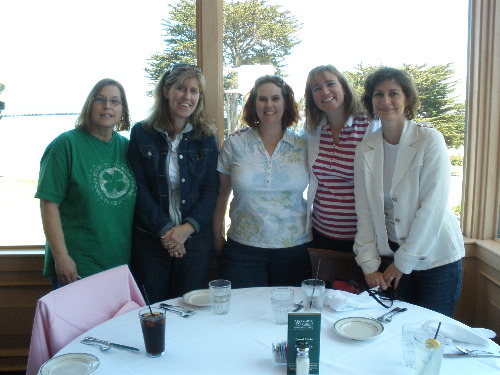 A beautiful lunch with a view!
Mae, me, Jen, Susan and Nancy Warren!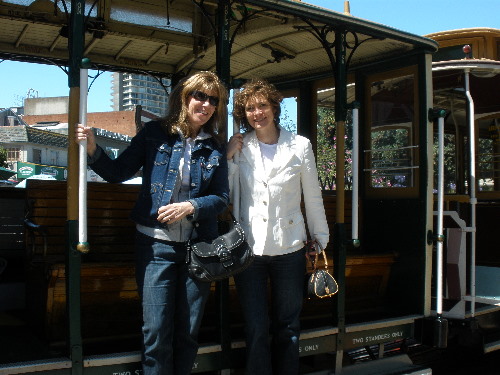 Nancy and me on a cable car!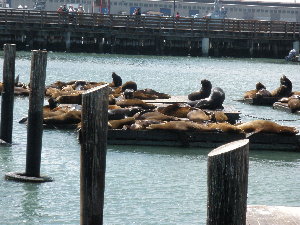 Fisherman's Wharf
The first night I had dinner with bunch of friends.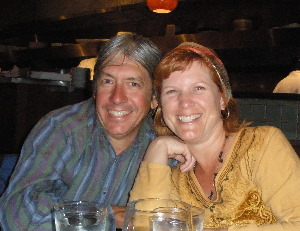 There's always one person you run into at a conference. Cindi Myers was that person for me this time. Here she is with her dh!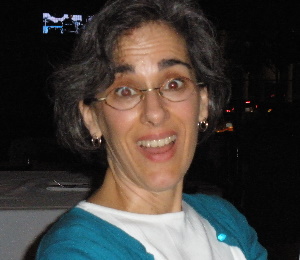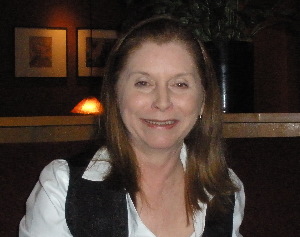 Delores Fossen and Isabel Sharpe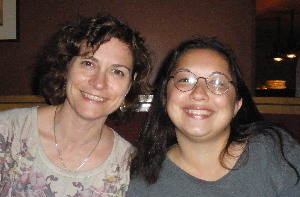 Nancy Warren
and
Cathy Yardley
And finally the conference really started. Although it is business, it's also a chance to see good friends!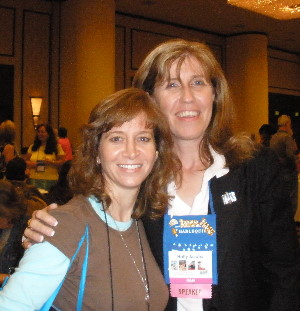 D'Anne Avner is a great friend who I only get to see once in a blue moon...I was so excited!
This was part of the work part...but also fun! I did a workshop, "Confessions of Series Crashers" with Tanya Michaels, and Natale Stenzel moderated.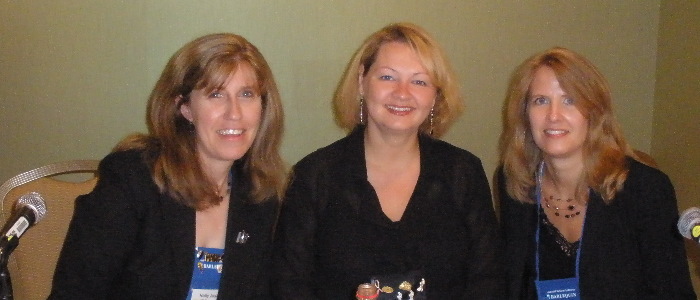 Business is business...but can also involve friendship!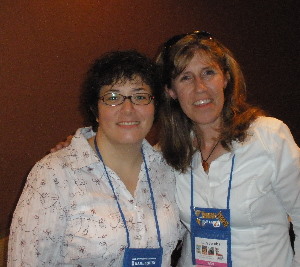 My marvelous editor, Kathryn Lye and me.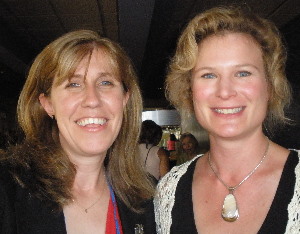 American Romance Senior Editor, Katheen Scheibling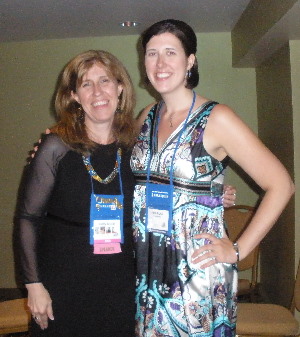 Avalon Editor, Faith Black and me.
Right after the booksigning, the Super Authors threw a tiara party for our readers. (Hoping to do the same next year as well!)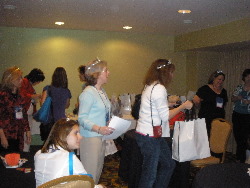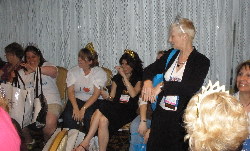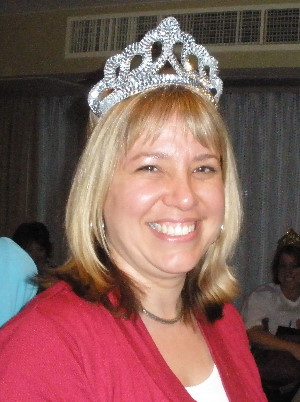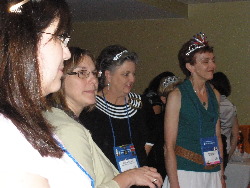 ***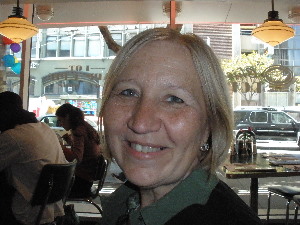 Barbara Vey works for Publisher's Weekly. I met her in New York this year...and now she can't quite shake me! LOL Check out her blog about eHarlequin.com's pajama party.
Speaking of the pajama party...I won a prize for my pajama's.
You see, last year I didn't go to the conference, so Susan Gable brought me home a t-shirt signed by friends who'd roomed with me over the years...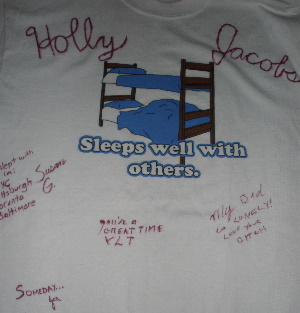 So I wore it to the pajama party and people who wanted to room with me (well, I'll confess, I phrase it sleep with me <g>) signed the back.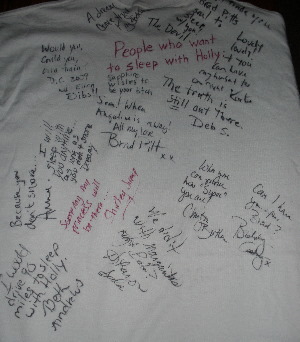 And it was at the pajama party that the great knackered debate started...more on that soon. But this is Biddy who was heavily involved! <g>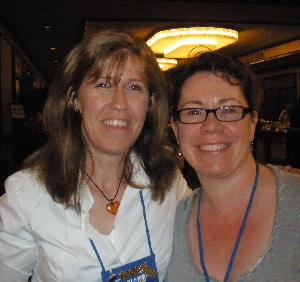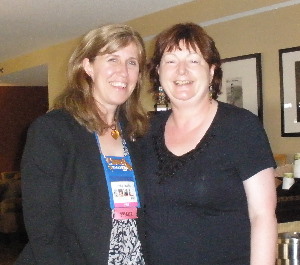 The other knackered debater was our own Kate Walker...my lovely, lovely friend!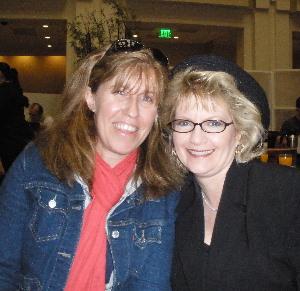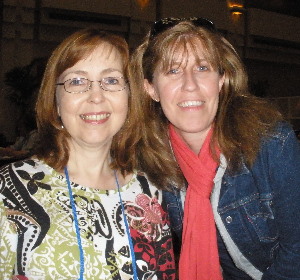 I had breakfast with Colleen Thompson and Christy Craig. I met both of them at one of my first conferences and we've been friends ever since.
D'Anne again, along with her friend (now my friend, too!)
Kate Willoughby!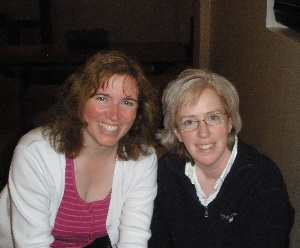 Susan Gable and
Ellen Hartman
All things have to come to an end. I have more pics I'll try to get up, but this one...Roz Denny Fox struck me as one of the best pics I ever took. You see Roz is just one of those sweet people and this seems to have captured that.